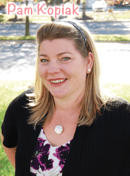 By Pam Kopiak (pkopiak@mossbuildinganddesign.com)
Here we go again. Thanksgiving is behind us and the holiday season is in full swing. The tree has been trimmed, the stockings hung by the fireplace and after MUCH ado, the outdoor lights are up (whew!). Now is the time to sit back and relax and enjoy your efforts right? Wrong. Now is the time to plan out those big gatherings you will be hosting. If you find yourself scrambling around your kitchen during the holidays to fetch a drink, coordinate your complex oven schedule or constantly clear your counter tops for more prep space, these tips are for you!
Wet Bar – Hot Toddy Anyone?
Ok. Let's be real. The days of "retiring" with a drink after a meal seem to be long gone. Most of my friends who host get togethers offer drinks as soon as you enter the door. "Can I take your coat and what sort of drink could I make you" is more the norm nowadays. If you set up a wet bar or similar bar area next to your kitchen (as the clients did in the remodel below), your guests can make their drinks and sent on their merry way (to another room), thus freeing up the kitchen space.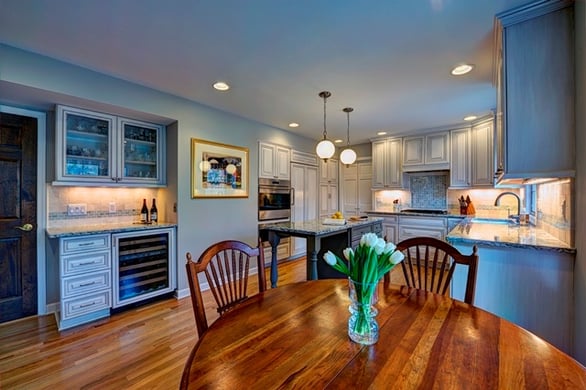 Double Oven – Let's Speed Things Up Already!
This is a no-brainer in my opinion. To be able to cook more than a couple things at once saves so much time and hassle. Now you no longer need to plan your side dish schedule to the milli-second! I wish I had an extra oven, and I would guess my mother-in-law does too. To watch the shuffle of dishes as the day goes on always amazes me. 'Are we cooking or warming? Cooking or warming?!'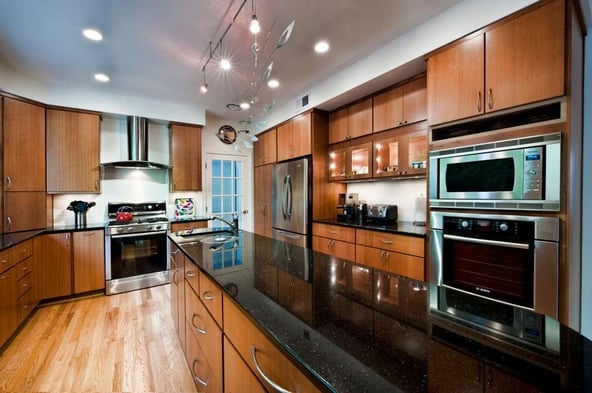 Islands – Long and Narrow Can Be Just Right.
A lot of people would say a big kitchen island is the way to go. Not always-- the way you configure it is key. This Herndon, VA kitchen remodel shows that sometimes less is more. By lengthening the island, it is easier to navigate around and keep guests away from high traffic areas. This could also be a great cookie making station with the kids, or serve as a buffet for all the dishes that will eventually come out of the oven (have they been cooked? And warmed?) This particular island is great as it allows for room to store some bar stools underneath and keep the floor space open.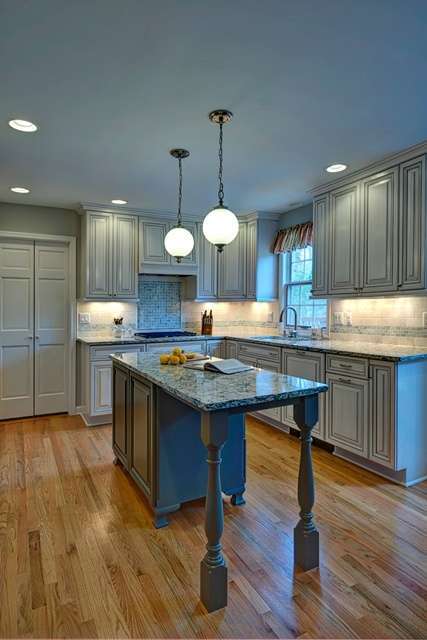 If you would like to discuss your kitchen remodeling plans or have other home improvement concerns, the professionals at MOSS are always available to help. Visit their portfolio for design inspiration, or give them a call to schedule an appointment.
Give us a Call: 703.961.7707
Send us an email: sales@mossbuildinganddesign.com
Get Inspired: Portfolio