Sunroom Additions in Northern VA
Are you looking for some extra space in your home that you can really multi-purpose? Perhaps you want a formal area, a reading area, or an area for your children to play. Regardless of your needs if you are looking for some extra space without going over your budget a sunroom may be the best way to go.
What is a Sunroom?
A sunroom is a multi-use room that is usually on the rear or side of a home. It typically has many windows which enables a lot of sunlight to enter the room. However, there is a lot of versatility in sunroom designs. Although called a SUNroom, you don't have to have a ton of windows and extra sunlight, you can mix it up and customize it as much as you want.
Sunroom Uses
One misunderstanding about sunrooms is the idea that they are only nice during the summer and spring months, but a sunroom has heating and air conditioning so that you can enjoy your new space all year round. There are several uses for your sunroom and each of your individual lifestyle needs will influence how you customize your sunroom. Below are some of the most common ways we've seen sunrooms being used:
Small breakfast/eating area
Child play area
Relaxation and reading area
Formal area
Living Room
Dining Room
Constructing Your Sunroom
The construction of your sunroom varies. Some homeowners choose to modify an existing screened porch that's typically off the rear of the home. The photos below show you the before and after of a sunroom that was originally a screened porch.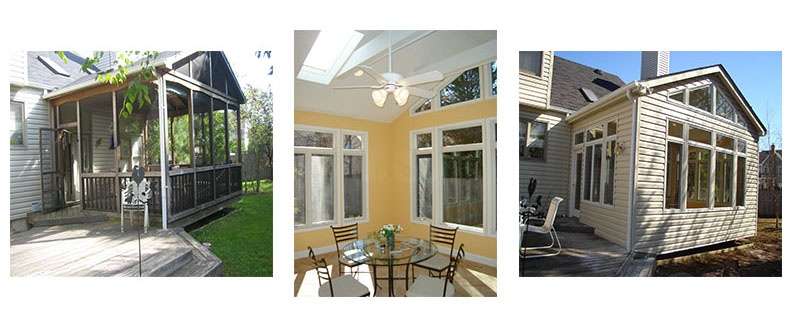 As you can see from the photos they chose to make their sunroom more open with several windows. They also wanted their sunroom to serve as an eating area.
If you don't already have an existing space that you wanted to convert then we would do a small sunroom addition. Below are some examples of various sunroom additions: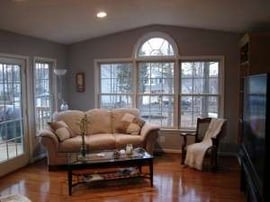 The owners of this sunroom addition in Fairfax, VA wanted to turn their new space into a living room/lounge area. It also has plenty of windows for some extra sunlight.
The sunroom addition below in Herndon, VA was added to the side of the home and served as a room for relaxation for this family in Northern VA.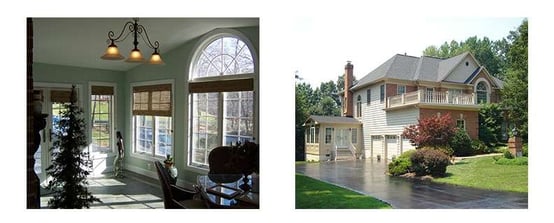 The sunroom below is off the back of the home also has several windows for sunlight, however they aren't as large as some of the other examples we've seen and the décor of this sunroom is not as bright as some of the others. Again, it's all about what you like and that's the beautiful thing about remodeling—that each home and lifestyle is different and whether you want a formal sunroom or a simple one; Moss has you covered. This sunroom addition served as a dining room area for this family and they also enjoyed a patio outdoor area below the sunroom.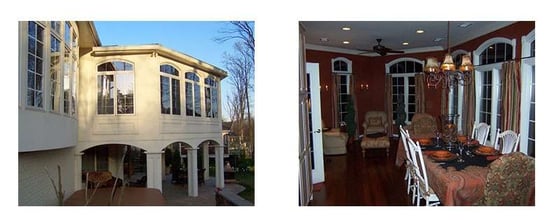 The Differences Between Pre-Fabricated Sunrooms and Our Sunrooms
Pre-Fabricated Sunrooms are:
Not well insulated
Not conditioned
Not a permanent structure
It is not going to flow with the rest of the home
It will not be used in the winter and summer
Our Sunrooms are:
Built like the rest of the home
Well insulated
Permanent structure
Flows with the rest of your home
Conditioned-4 seasons
Your Northern VA Sunroom Addition
Sunrooms are a great, less expensive way to get the extra space that you desire for your home. Whether you are looking for an area to relax, eat, or have more room for your children a sunroom is a great way to go. It's multi-use ability makes it appealing to everyone.
Moss Building & Design
Moss Building & Design is an award-winning remodeling company in Northern Virginia. We specialize in home additions, basement remodeling, and Kitchen & Bath remodels. As an established Virginia contractor we know what it takes to transform your house into the home of your dreams. As a result of the countless requests by Moss Building & Design customers who already know and trust the Moss name, we also offer home services including plumbing, electrical, handyman, tile, roofing & siding, structural work and much more.