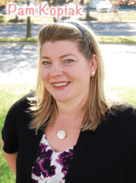 By Pam Kopiak (PKopiak@MossBuildingandDesign.com)
As a long time resident of Arlington, I am well aware that many of the buildings and homes are getting old(er). Many have "quirks" about them that aren't the most charming, even if they do add "character" to the place. When it comes to updating an existing layout, you can make a space more functional while beautiful all at the same time. This MOSS kitchen remodel in Arlington, VA is a great example of this. With this homeowner using a wheelchair, function was by far, a necessity.
Lower the Bar
The height of the kitchen counters was lowered to be more accessible to the homeowner. Pair that with a modern update on the kitchen table, beautiful wallpaper, and pendant lighting. This living space turned out to be incredibly gorgeous.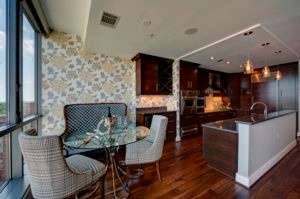 A Little Support Goes A Long Way
Safety is our number one concern. When designing this bathroom, we kept safety and the ability to support one's self in mind. Beyond the lowered vanity, there is a support rail next to the toilet. A first glance, you might not notice it. This is because it ever so slightly blends into the design of the space. The shower is also designed to be wheelchair accessible accommodated with a shower seat. Add a beautiful backslash to the vanity mirror and a chandelier and this bathroom transforms into an elegant living space.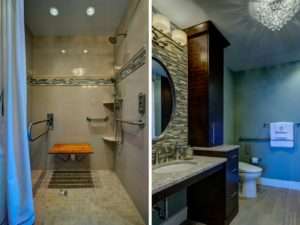 Work From Home
This office space is wonderful. Designed with a set of rolling doors, (a huge trend in the design world right now), the office is tucked away allowing for a sense of warmth and privacy at the same time. With plenty of space to move around in, this small office not only looks great but is extremely functional at the same time. You can have the best of both worlds!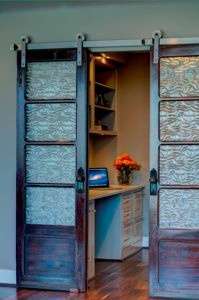 Best Remodeler in Arlington
Moss Building & Design was voted Best Remodeler in Arlington Magazine's Best of Arlington 2016! If you are thinking of a home remodel and have any special needs that you need to have addressed, the professionals at MOSS are here to help. If you have general questions, call MOSS at 703.961.7707 or email Sales@MossBuildingandDesign.com.