Sometimes it's hard to stay motivated to work out. And while your shiny new treadmill kept you in check at first, you soon found yourself avoiding the 'home gym' you improvised at the start. While we can't promise you a 6-pack or buns of steel, we can give you these home gym ideas that will make you want to work out everyday. Check out these home gyms that make us super pumped to work out.
Don't Hide your Gym in the Basement
This may not be a luxury everyone has, considering the basement is usually a way homeowners maximize their space. But if you have the spare room, consider the placement of your home gym. For instance, this home gym we found on Houzz used their attic space to their advantage which made a bright and airy studio to work out in. Yoga anyone?
Leave space for a Variety of Equipment
If you are confined to the basement, no fear. Usually this means you have ample space to create a home gym with a large variety of fitness equipment. This may seem like a no-brainer, but having room for a few different machines can keep you from being 'mentally fatigued' with your workout. Another benefit to this is to keep the room from feeling too claustrophobic, with plenty of room to get some dynamic stretching in.

Creative Home Gym Ideas
Maybe you're not the yoga or treadmill type. You're a sports person and love to break a sweat in a competitive atmosphere. Why not get creative with your home gym? This home gym found on Houzz features an in-home basketball court. Not a basketball person? Consider a multi-use sport court that you and your kids would love.
Micro-Gym
Don't let lack of space stop you from getting your sweat on. This micro-gym is more than just a place to store the stationary bike collecting dust. Even smaller spaces can fit a wide variety of equipment if you store them strategically.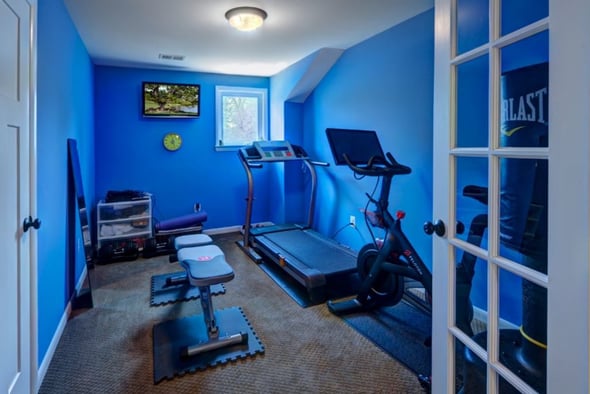 Inspired to start your own home gym? Contact Moss Building and Design today to talk about how you can maximize the space in your home and get your workout on everyday in the comfort of your home.