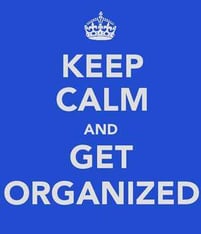 By- Jenn Zschunke (JZschunke@MossBuildingandDesign.com)
I love the holidays and all that comes with them: the decorations, the food, the slight break from helping my boys with homework. But with that joyful break, there also comes two weeks of my boys being at home, creating "awesome fort cities," playing with (and leaving small Legos pieces all around the house) new toys, and me being unable to keep up with all the stuff. With school beginning again shortly after the New Year, I vow to take control of my home again.
Small DIY projects are manageable for even the most disorganized of us moms – and if your organizational aspirations seem too grand for your capabilities, you can always call on the expert handymen at Moss Home Services to help you out!
Home Ideas for Clothes, Clothes, and More Clothes!
With the boys back to school, I plan to go through their clothes and make piles: one to pass down (in that respect, I'm lucky if a pair of jeans makes it to another boy!), one to donate, and one to discard. That step alone will cut back on the clutter in the boys' closets and definitely create less laundry for me to handle. If you have dreams of cool closets, check out this example: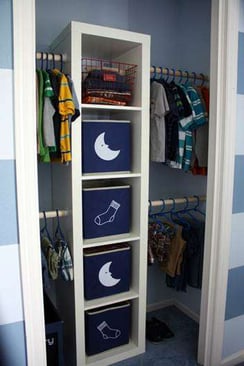 Interior Design with Winter Gear & Shoes & Backpacks!
We have a small coat closet in our house. Every member of our family owns a variety of jackets, sweatshirts, snow gear, shoes, etc. It can be a mess! Besides a shoe rack at the front of our house, we also have hooks set up for the boys' backpacks. But it is crowded in there with their heavy winter coats.
We plan to install more hooks on the wall heading down to our basement for the boys to use; the goal being to keep the coats inside the house, but somewhat out of sight. This is definitely a simple DIY that anyone with a hammer and some nails can do (although if you plan to hang heavy bags and jackets, you'll need a handyman to install hooks correctly so that they will not be in danger of pulling at your wall, which can lead to drywall damage, etc.)!
Here's a great example of a way to organize your coats and shoes, courtesy of Tailored Living.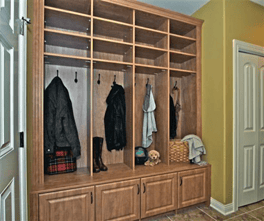 Check back later this month for more ways I plan to de-clutter the house and get it back to post-holiday condition! If you need help with your DIY projects or larger home improvements, contact the experts at Moss Home Services at 703-961-7707 for a free estimate and to learn more about our services.
Jenn Zschunke is a part of the Community Relations department. She plans HandyMom 101 workshop programs for Moss and coordinates philanthropic activities in her local community.
Photo Credit:
http://askannamoseley.com/2013/05/get-motivated-to-get-organizing/
http://karoarias.blogspot.com/2014/03/diy-organize-bedroom-closet.html
http://www.tailoredliving.com/home-organization-specialist/tailored-living-gallery/?taxID=930