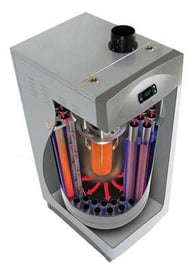 By – Jenn Zschunke (JZschunke@MossBuildingandDesign.com)
On April 16, 2015, the Department of Energy (DOE) will make effective its new energy efficiency mandates as outlined as part of the National Appliance and Energy Conservation Act (NAECA). The new mandates will affect all water heaters manufactured for sale in the U.S.
There are some important details that will be helpful to all MOSS customers who could potentially be in the market to repair or replace their water heaters. By introducing new guidelines for the design of water heaters, the DOE calculates that the updated mandate will avoid about 172.5 million metric tons of carbon dioxide emissions, equivalent to the annual greenhouse gas emissions of about 33.8 million automobiles, over the course of the next 30 years.
In order for water heaters to comply with the new mandates, their insulation has to be increased, and, thus, their design has to be altered by their manufacturers. To accommodate this, the design of water heaters could be increased up to 10% (or, decreased by 10%, resulting in lower volume capacity). Most single family homes will not be affected by this change in size but condos and other types of dwellings could be.
What you need to know:
Heaters that are currently available for purchase may be installed even after the effective date. However, once they are all purchased, they will be off the market forever.
Heaters above 55 gallons may need to change to hybrid or condensing models (which can be more expensive).
Heaters above 20 gallons but below 55 gallons will also need to be modified and will be more expensive as well.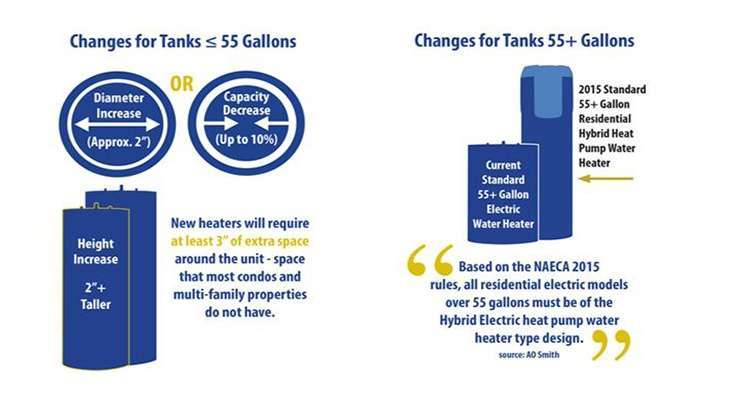 What if my water heater needs replacing soon?
You have three options to consider if your water heater needs to be replaced.
Act quickly and purchase a new water heater before April 16. Water heaters last, on average, 6-8 years, so, you wouldn't have to deal with the new standards until then.
Upgrade to a new 2015 NAECA compliant water heater now – saving money in the long run by using less energy immediately.
Wait and purchase a water heater after April 16 – giving you the opportunity to see what comes on the market and what is the best water heater for your home.
While these standards will affect your home immediately, the energy savings are staggering. According to the DOE, "Standards mandatory in 2015 will save approximately 3.3 quads of energy and result in approximately $63 billion in energy bill savings for products shipped from 2015-2044."
If you have questions or you find you are in the market for a new water heater, contact the professionals at MOSS for further information and assistance with installing your heater.
Jenn Zschunke is a part of the Community Relations department. She plans HandyMOM 101 workshop programs for Moss and coordinates philanthropic activities in her local community.
Photo Credit:
www.favingerplumbing.com
http://www.aosmith.com/