By Pam Kopiak (PKopiak@MossBuildingandDesign.com)
With Thanksgiving quickly approaching, visions of turkey and mashed potatoes are filling my thoughts. I have to say, I have been pretty lucky in the past to have been able to mostly avoid hosting the big shindig. Don't get me wrong, I love the holiday but I don't enjoy the idea of having THAT many people in my kitchen at the same time – each one with a dish or two to heat up in my oven (no double oven for me!) If you find space is an issue at the holidays, it might be time to consider some creative solutions.
To The Left. To The Left.
We have all seen those houses in our neighborhoods that have had BEAUTIFUL two-story addition renovations. Wow. Those are great but they are also costly and take a good bit of time to finish. For some "small space" relief, try planning around high traffic areas, like kitchens, dining rooms, and living rooms. This renovation in Vienna, VA now has ample space in the dining room just from adding a small bump out off the back of the house.
Turkey Recovery Zone
A well executed addition can blend into any area of the home. It doesn't have to be relegated to the kitchen. Think about it. If you have a living room just off the kitchen where everyone retires (lays in a stupor) after eating their huge T-Day feast, consider opening that space up to accommodate that time honored tradition. A bump out like the one below in Chantilly, VA can double as a covering for an outdoor patio. A nice space to unwind after a game of touch football? Sounds good to me!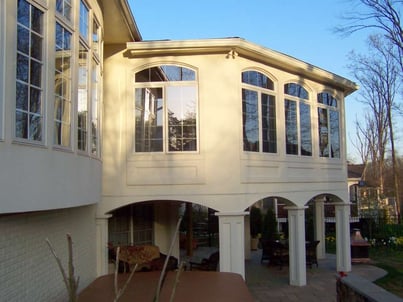 Think Tiny
More space doesn't have to be reserved for just kitchens, living rooms and dining rooms. Check out this Houzz article for more tips on micro additions to bathrooms, master bedrooms or any area of your home where more square footage would be appreciated. Sometimes small changes can make a big difference!
If you are looking for ideas on how to add a little more square footage to your home, the professionals at Moss Building and Design are always available to answer questions and share ideas. If you would like to discuss your remodeling plans or have general questions call MOSS at 703.961.7707 or email Sales@MossBuildingandDesign.com.