By: Jeannine Miller (JMiller@MossBuildinganddDesign.com)
MOSS On LIVE Television
TV. It's a beautiful thing. I like to watch it. I REALLY like to be on it. So when MOSS got the call to be on a local talk show and talk about our exciting new technology, MOSS 360, I jumped at the chance to participate. It started out great. I got to play mama bear and help MOSS' boy genius, Tyler Tappan, pull his look together. I got to see behind the scenes which I think is so cool. Then it was time to go live.
Let's Talk Live
Before I tell you how it went, I need to give a little background. I'm the kind of person who needs to put my negative stuff out there before I can get past it. I will walk into a party and tell everyone I talk to that I know my dress is too tight, but I didn't have anything else to wear. Then I can move on and stop thinking about how I look like 10 pounds of sugar in a 5-pound bag.
Knowing that, you can see why I feel compelled to point out all the things I don't like about this TV appearance. My stance. I look like someone has me on a pole and I can't get off. My stupid closed-mouth smile. What am I, a Muppet? I'm not sure how you're supposed to look while just standing there, but I know it's not like that. And to close it out, my maniacal head swinging back and forth and mugging to the camera…what the what? If you EVER see me doing that in real life, please slap me and tell me to snap out of it. Watch the segment, here.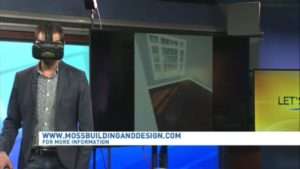 MOSS 360
Now that that's out of the way, I can tell you what I really wanted to say about this awesome new technology called MOSS 360. It's augmented and virtual reality meets home remodeling. Until now, homeowners had to wait until their project was completed to know what it would feel like in their newly-remodeled space. With MOSS 360, you can actually move through your future kitchen, basement or home addition before construction ever begins, allowing you to easily make any adjustments you like. This is the newest component of MOSS' Superior Design Experience and our customers are loving it.
Home + Remodeling Show
Come see this innovative technology for yourself at the Home + Remodeling Show at the Dulles Expo Center this weekend. We are presenting MOSS 360 on the main stage Saturday at noon and Sunday at 1:00. We will be in Booth 631 all weekend long!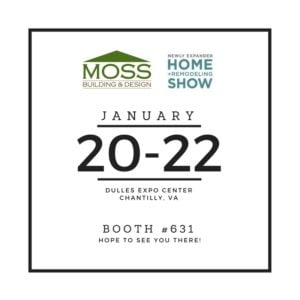 And now a word from my sponsor:
Best Remodeler in Northern Virginia
If you're in the market for some home remodeling, call the experts at Moss Building & Design. We will consult with you and help you explore the many possibilities for updating your home. Call 703-961-7707 to schedule an appointment for a free estimate.
In addition to blogging about all things home and family-related, Jeannine Miller is a member of Moss Building & Design's Community Relations team.