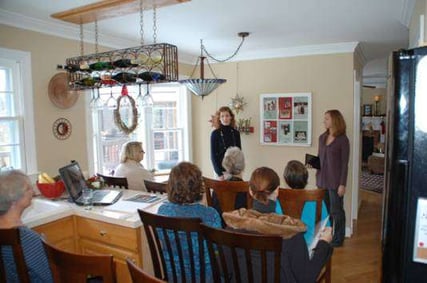 ...And Save Your Walls In The Process

By – Jenn Zschunke (jzschunke@mossbuildinganddesign.com)
Have you looked at the Home Décor section of Pinterest? Does it both excite and terrify you? It's okay, that's how I feel too. I look around the site and am so inspired by the beautiful images displayed and yet, at the same time, I want to hide in a corner and weep over my lack of creativity.
Lucky for me (and you!), Moss recently sponsored a "Hang It" HandyMOM 101 workshop in conjunction with Renewed Spaces Northern Virginia owners Jen Blevins and Amanda Geary. Our goal in coming together was to teach moms to properly hang pictures, art and other décor and with creative, personal, and inexpensive flair.
Jen and Amanda began by sharing a few easy pointers for creating a fun wall.
Hang the center of pictures at around 60 inches (eye level).
Stick with a color scheme.
Mix and match elements but keep good proportions.
Lay out a sample of your potential gallery wall on a large space on your floor using butcher paper cut up in the sizes of your frames/photos. That way, you can have a good idea of spacing before nailing into the wall.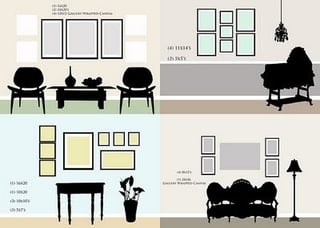 Jen and Amanda also shared ideas such as finding inexpensive frames from a variety of sources and then spray painting them to match – a cheap fix! Another idea for creating mats for photos is to visit websites such as www.vintageprintables.com. There, you can print background images for free.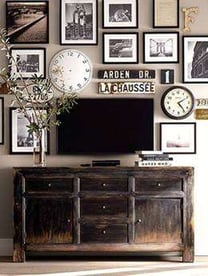 Even with the rules that the ladies discussed, they also pointed out that sometimes the rules can be broken. Check out the neat gallery wall to the left, which effectively hides the TV!
After Jen and Amanda shared their professional tips and pointers, Nathan Shaffer, our resident Moss HandyMOM 101 expert, discussed various ways to be sure that when hanging items, we do it without creating holes and more work for ourselves (to fix THOSE, moms would need to then attend our "Patch It" workshop).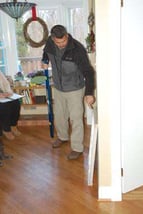 Nathan showed off a level, a stud finder, various anchors and screws, and new products that allow you to hang items without a nail! There is a lot more to hanging pictures than hammering a nail in the wall…that is, if you want the picture to stay in place!
We had a great time with the ladies from Renewed Spaces and our guests. As part of the workshop, Moss donated a free Handyman For A Day. Congratulations to Amy Anderson who won the drawing!
If you are interested in learning more about Renewed Spaces Northern Virginia and their services, which include home organization, interior design and more, LIKE their Facebook page.
If you're looking for a makeover for your home, call the experts at Moss Building & Design. We will consult with you and help you explore the many possibilities for updating your home. Call 703-961-7707 to schedule an appointment for a free estimate.
Jenn Zschunke is a part of the Community Relations department. She plans HandyMom 101 workshop programs for Moss and coordinates philanthropic activities in her local community.
Photo Credit http://lilluna.com/ and http://media-cache-ec0.pinimg.com/originals/86/a3/68/86a368827b1ce1fe2134d75d221eed44.jpg.