Halloween was yesterday and we received many costume photos for our competition. Costumes ranged from popcorn to vampires and sumo wrestlers. Thank you all for submitting such great and creative costumes. After tallying up the votes the winner and runner-up has been determined.
Costume Contest Winner
Receiving a FREE handyman for a day from Moss Building & Design: CONGRATULATIONS to Chris French! His Sumo Wrestler & Rubik's Cube costumes were a source of great chuckles in the office. You have to respect the creativity!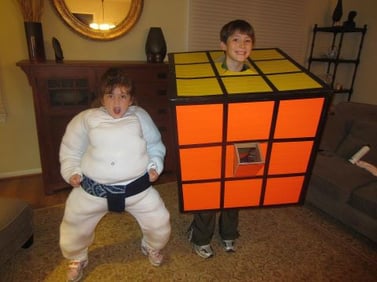 Second Place Winner
Receiving a $50 off certificate to be used towards her next Moss Home Services: CONGRATULATIONS to Beth Little and her little Mac & Cheeser. What a great and fun costume!

Moss
Moss Building & Design in Chantilly, VA is a family owned company that specializes in remodeling additions, kitchens, bathrooms and basements. Our Moss Home Services division provides plumbing, electrical, handyman services, small structural work & much more. Moss will be your one and only call for all of your home improvement needs in Northern Virginia…nothing is too large or small. Call us at 703.961.7707 or email us at Sales@MossBuildingandDesign.com