Northern VA Kitchen Bump-Out Additions
Where is the go-to room in your home? You know, the room that the everyone flocks to. If you're like the majority of the population it's your kitchen. These days everyone hangs out in the kitchen. Whether if it's with family or a social gathering in your home, kitchens are now the social hub of the house.
This week in our Moss Home Additions Series we're going to cover Kitchen Bump-Out additions. We'll talk through what a kitchen bump-out is, the benefits of a kitchen bump-out & lastly we'll look at a case study of a home in Fairfax, VA.
What is a Kitchen Bump-Out?
A kitchen bump-out usually involves removing a wall and opening a side of the home to create a bigger living space. A kitchen bump-out not only gives you a bigger, more open kitchen but it also allows you to fill in the additional space with whatever you'd like, including a sunroom area, living area or a dining room.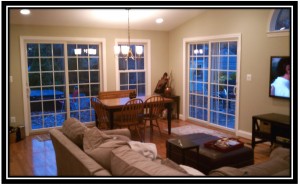 The Benefits of a Kitchen Bump-Out
There are several benefits of adding a kitchen bump-out to your Northern VA home.
If you chose a kitchen bump-out for your Northern VA home. You can customize the additional space to meet your needs. The additional space can be used to create a sunroom with an eating area, a dining room or even a mudroom/laundry room. Many homeowners choose to reconfigure the existing space and make the kitchen bigger while adding a great room off the back of the home.
A kitchen bump-out is going to provide you with a bigger more spacious kitchen. This is great for families that enjoy entertaining guests. Kitchens in previous years are way too small for the way families operate today. Not only is it great for entertaining, but for families with children it's always great to have some extra space in the kitchen. A kitchen bump-out on your Northern VA home will allow you to customize the space to suite your personal lifestyle.
You also get a lot of value for a smaller remodel like a kitchen bump-out by being able to reconfigure the space and utilize the square footage. This saves you from adding a huge addition to your home and also helps you stay within budget.
Kitchen Bump-Out Fairfax, VA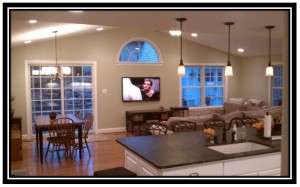 This home in Fairfax, VA was a 1970 split level home that added a one story addition off the rear end of the home with a detached garage. This one story addition included a great room & kitchen bump-out. A new great room was created in the additional space that the bump-out created. The kitchen became larger and the new space created one big area with a kitchen, the original family room & a new great room area. This family spends the majority of their time in that area together. They had a large 10 foot island installed for the family to hang around and the huge new great room is a fun place for them to spend time together.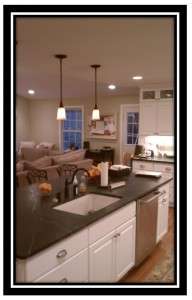 If you find yourself needing extra elbow room in your kitchen, then a kitchen-bump out may be for you. Not only does a kitchen bump-out enlarge your kitchen, but it also allows you to customize the additional space. It's kind of like a two for one deal. You get a functional, bigger kitchen & also some additional space to transform into whatever you prefer.
Moss Building & Design
Moss Building & Design is an award-winning remodeling company in Northern Virginia. We specialize in home additions, basement remodeling, and kitchen & bath remodels. As an established Virginia contractor we know what it takes to transform your house into the home of your dreams. As a result of the countless requests by Moss Building & Design customers who already know and trust the Moss name, we also offer home services including plumbing, electrical, handyman services, roofing, windows, siding & doors and much more.