Adding Value To Your Home With A Master Suite Addition
We're going to kick off our Moss' Home Additions Series with Master Suites. Often times a Master Suite addition includes the following:
master bedroom
master bathroom
walk-in closet
relaxing/lounge area
Master Suites are something that has evolved over time. Most Master Suites prior to this time period were smaller, whereas now you see larger additions with large bedrooms, bathrooms & closets. It is all about being able to customize your home to fit your personal comfort and everyday needs.
The Benefits Of Having A Master Suite Addition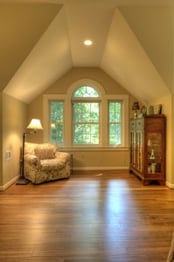 With the stress of everyday life often times you'll want an area in your home that you can retreat to. Master Suites can be the perfect in-home getaway. Master Suite additions give you a customizable space that improves the look of your home, gives you a larger bedroom, bathroom & closet, and it also increases the value of your home by adding more square footage.
Customizing Your Home With A Master Suite Addition
More and more people are choosing to stay in their homes longer and really focusing on customizing it exactly how they want. If you want a place to retreat in your home, with a larger bedroom & space to relax then a Master Suite may be the addition for you. Maybe you want a larger closet and smaller bathroom, or a larger bathroom with smaller bedroom space, the choice is yours because you are customizing your home to fit your personal needs. Moss Building & Design will work with you and talk through your needs so that the finished result is exactly what you wanted.
Master Suite Addition Oakton, VA
O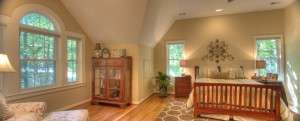 ne family in Oakton, VA wanted Moss to improve the look of their home, create a customized and larger bedroom, add an office/work space, add square footage to increase the value of the home and the meet their growing family needs.
This Northern Virginia home addition included a Master Suite with a master bedroom, master bathroom, large walk in closet, reading nook area & a connected office. More and more people are able to work from home & having an in-home office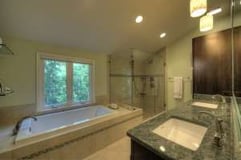 is becoming increasingly popular. By having it connected to your Master Suite you don't have to worry about working in your actual bedroom & running the risk of keeping your spouse up all night!
Adding Square Footage To Your Home With A Master Suite Addition
For this Master Suite addition in Oakton, VA we added extra square footage to their home by putting the addition above the garage. We were able to help the family stay within their budget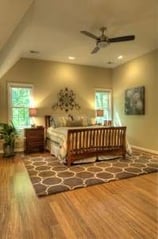 by suggesting the Master Suite be put above the garage instead of adding a new foundation to the home which would have been much more costly. The family was able to enjoy a new dramatic bedroom, more closet space, a bigger master bathroom & a new connected office.
Moss Building & Design
Moss Building & Design is an award-winning remodeling company in Northern Virginia. We specialize in home additions, basement remodeling, and kitchen & bath remodels. As an established Virginia contractor we know what it takes to transform your house into the home of your dreams. As a result of the countless requests by Moss Building & Design customers who already know and trust the Moss name, we also offer home services including plumbing, electrical, handyman services, roofing, windows, siding & doors and much more.