Home Design Using Repurposed Doors
Home decorating is really the fun part once your addition or remodel is complete. Your home is a structure and to bring out your personality and home cohesiveness, your decor is the icing on the cake.
In recent years, recycled and repurposed décor has become a popular option not only to show off a personal design but also to celebrate items items that already have a history and a personality of their own.
On the blog, Dishfunctional Designs, there are great ideas to make use of repurposed old doors:
~ Paint old doors a bright or contrasting color to add life and mood to a room.
~ Think usefulness: add shelves and/or hooks to old doors to give an old door a new use.
~ Add a mirror to an old door for a completely new look. Mirrors are a great way to add visual space and depth to a room.
~ Missing window on a door? Use it to hang a plant by attaching a simple hook to the top area of the space, or attach a curtain to the open space.
This design trend has been used in one of our favorite kitchen remodels in Great Falls, VA, where a salvaged door gave the kitchen personality through its color, rustic feel, and through its reimagining as a sliding door.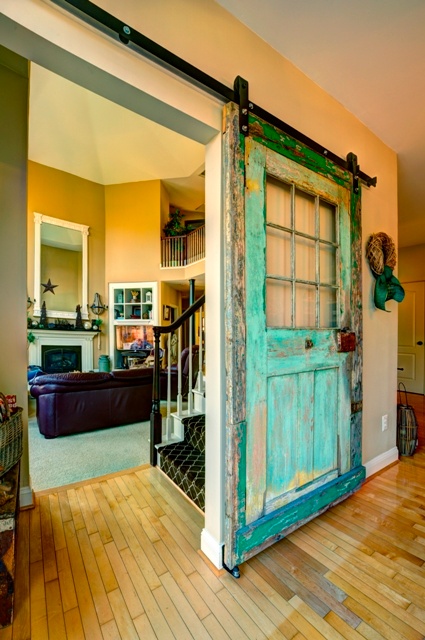 You can see more about salvaged doors at the Dishfunctional Designs blog.
See more of this trend in our Great Falls kitchen remodel. Contact us at 703-961-7707 or at Sales@MossBuildingandDesign.com to discuss your home improvement ideas.