By: Madeline Pillow (MPillow@MossBuildingandDesign.com)
Advice for Home Organization
New Year's has come and gone and even as you try to remember writing "2015" instead of "2014", you are probably also trying to keep up with your resolutions. Often New Year's resolutions also focus on your home as well as whether to be more organized or to redecorate a room.
If one of your resolutions is to keep your home more organized, take a tip from Alison Hodgson, a Houzz contributor, on the subject:
---
Target a muscle group. Where are you particularly flabby? What's frustrating you the most? The temptation can be to think your entire life needs a makeover, and maybe it does, but trying to do everything at once is setting yourself up for failure. If you want to organize your home, you need to start with one room, and even then you'll want to narrow your focus.
---
It's great advice especially once you start taking stock of what you want to accomplish in your home. Maybe your pantry needs better organization or the laundry room is barely helping you get the job done. Once you start looking around, you can see a number of things that could help you be more productive or be more functional.
Whatever the case, form an action plan that allows you to focus on one task at a time. That could mean picking one room every month to work on and make more functional. Or, if you would like to focus on major hubs of the house like the kitchen and basement, split the year and give each room 6 months for you to highlight changes to be made and implement ways that are cost-effective and non-disruptive.
Home Improvement in Northern VA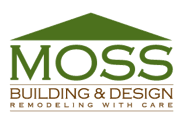 To read more from the Houzz article cited above, check out Alison's article on Houzz. To get more tips for your home in 2015, check back in with our blog for articles on every aspect of home improvement.
At Moss, we pay close attention to detail and are confident that we can help with your home improvements with the care and attention needed to exceed your expectations. Call us at 703.961.7707 to schedule a free estimate or to speak to a professional to gather more information.