Basement Renovations Questions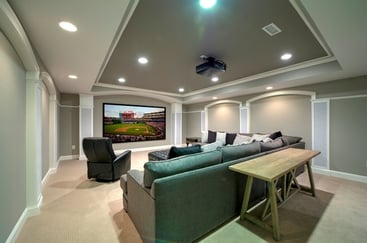 By – Jenn Zschunke (jzschunke@mossbuildinganddesign.com)
At Moss, we receive a range of questions from clients about what goes into a basement remodel. Whatever stage you might be in the process, these answers from our professional staff should help give you a good mental foundation of what is involved with finishing your basement – and hopefully make you excited about starting the process!
When beginning to think about a basement remodel, how should we start?
Before you start your basement remodel, think about what sort of space you want – in addition to the basic finishing (floors, walls, lighting, etc.).
Do you want to have a separate playroom for younger children?
Do you want to have a TV and/or create a media room?
Would it be good to include a bar or a fridge/eating area for snacks or entertaining in your basement?
We suggest thinking about your vision for your basement and writing your lists of wishes and "must haves". Then prioritize them. We have basement designers on staff who can talk you through the remodeling process and will work with any budget to help you finish a basement that really works for your family.
What does a typical basement remodel cost? What are ways to splurge and what are ways to economize?
So many factors go into a final price for a basement remodel. Adding more than the basic components (adding a potential media room, full wet bar, etc.) can add to the cost. That being said, Moss is committed to working with our clients with any budget and helping provide them a space that is perfect for their families.
There are many ways to both splurge and save when remodeling your basement. Here are some splurges:
Lighting: Natural light can be hard to come by in basements. Artificial light can vary in its "artificiality" so it's important to consider if you want to spend for something more natural, with perhaps some ambient lighting as well.
Media room/large TV area: A great idea for a growing family and/or a family that entertains. While a separate room might not work out space-wise, a corner of a room with dedicated surround sound and large flat screen TV could do the trick.
Ceiling insulation: Helps to keep sound from above floors to a minimum.
Savings include:
Cabinetry: You can choose to go with a basic option for a basement bathroom or wet bar.
Free standing storage vs. built-ins: This provides you both flexibility and saves money.
Finish space as needed: Consider finishing a portion of the basement and using the rest as storage.
Follow our blog to get more basement FAQ questions answered!
Basement Contractors in Northern Virginia
Whether you want to finish your basement to be an in-law suite, media room, entertainment space, or to add guest rooms, we can help make your renovation dreams a reality. To schedule a free estimate or to speak with a Moss professional about your project, call us at 703.961.7707 or email us at Sales@MossBuildingandDesign.com.