Hiding the Unattractive Home Necessities

By- Madeline Pillow (MPillow@MossBuildingandDesign.com)
Spring is the silent call that awakens in us the thought: "I want to spend time outdoors." With winter weather (hopefully) behind us, we are once again aware of all the activities we could be partaking in outside: picnicking, gardening, or watching the kids play on the swing set.
Along this awareness also comes the realization that the yard looks a little rough. But winter weather isn't like a calming facial scrub for our yards; it's more like chemical peel gone wrong so the after effects shouldn't be that surprising.
But fixing this isn't that hard to tackle: start by pruning back some unruly trees or plan and prepare areas for your new flower beds. And don't forget to clean out that bird bath and put in some fresh sparkling water for your feathery friends.
What might be your biggest item to tackle are the things that don't necessarily go with the backyard. Things that you become blind to and only really notice during the winter months with little vegetation; items like the AC unit or the trash and recycling bins.
An item like the AC unit can be overlooked in how it fits in with your backyard because they are necessary in their utility for your home and need to be easily accessible. But let's face it, they aren't really helping with the appeal in your spring yard.
If you are looking to hide an AC unit or trash receptacle, think how you can incorporate these units into their surroundings whether through blending in or building a separate structure.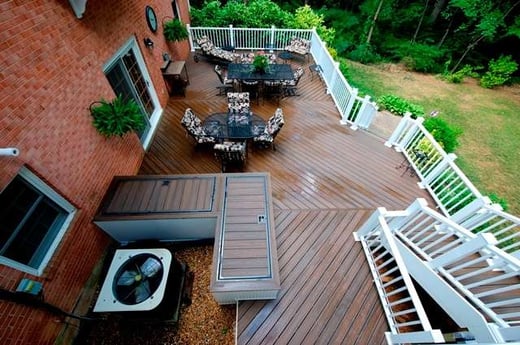 This AC unit in Annandale, VA, seen above, was better incorporated into the deck through blending. The unit can still be accessed easily, but it is not a featured aspect of the deck and is set behind some storage that is uniform with the deck material.
Another idea is the building of a structure around your trash or your AC unit (below pictures from Houzz) .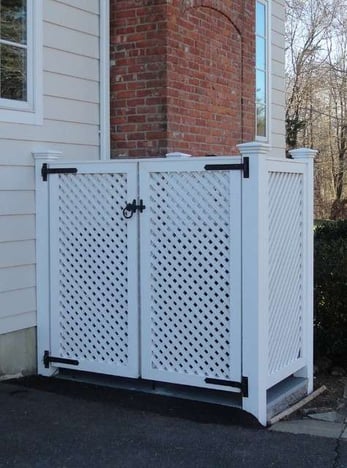 The AC unit can still be easily reached and it fits in better with its surroundings.
As well with this home improvement project below, a space was created for the trash and recycling along with a small storage unit (picture from Houzz). With this idea, the structure serves a dual purpose and also adds to the aesthetic of the landscape.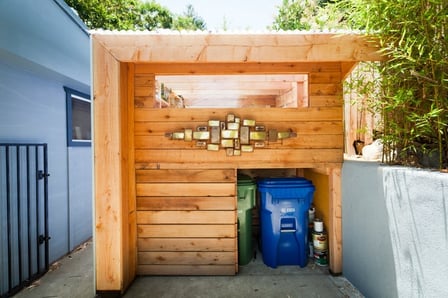 Yard Home Improvements
By addressing these constants in your backyard, you can make your landscape more uniform and attractive, while still making sure these items are easily accessed. With this aspect of your winter yard under control, you'll really be able to enjoy those spring flowers with a clear view.
Remodeling Ideas with the Best Northern VA Remodeler
At MOSS, no project is too big or small. Our team will expertly answer any questions you may have concerning a plumbing issue to handling the logistics of an addition layout.
Get started with your plans by contacting us to set up a phone consultation with MOSS' Inside Guide or have one of our experts come to your home for a free in-home estimate at 703-961-7707.
Photo Credit: Houzz (http://www.houzz.com/ideabooks/45834109/list/houzz-call-how-do-you-hide-your-trash)