Moss Building & Design Brings HandyMOM 101 "Tile It" to the Loudoun Fairfax Mothers of Multiples Club

By – Jenn Zschunke (jzschunke@mossbuildinganddesign.com)
MOSS brought our popular "Tile It" HandyMOM 101 workshop to the Loudoun Fairfax County Mothers of Multiples Group in early October – and boy, was it a fun, interactive, chatty and really neat evening. You know you're amongst a group of moms who have multiples at home when nothing throws them. Ask them to help cut tile and three jump up at once. Bring out some mastic and ask them to apply it to a wall and stick some tile up…not only do several of them get up to try it out but, during the process, question after question is asked. Topics are thrown all over the place and no one seems the slightest bit thrown. I think I need to hang out with these ladies more often. They can certainly teach me a thing or two about having fun amidst chaos.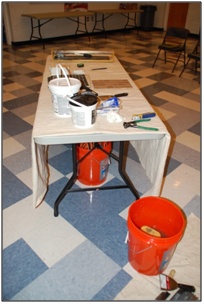 Our "Tile It" workshop consists of three distinct components: 1) Cutting the tile; 2) Applying Thin-Set or mastic to the wall or floor and setting the tiles with spacers; 3) Applying grout and sponging off the excess. While in the demo this all happens rather quickly, we did have to remind these moms that some patience is required with step #2 (trust me, I have little patience so this is a lesson more FOR ME than our attendees).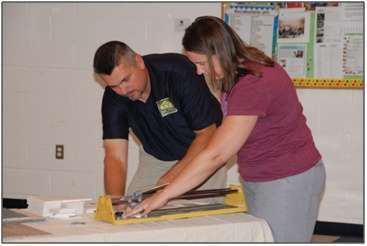 Nathan Shaffer, MOSS' extraordinary HandyMOM 101 instructor and Home Services professional, stressed to the ladies that the most important part about tiling is focusing on the pattern. You might find the actual tiling easier than you thought (assuming you are patient and use the appropriate tools and machinery), but you must always focus on the pattern. Nathan pointed out that professionals can spot a non-pro job by how the tiles line up on the backsplash or floor. Laying out tiles starting from the exact middle of the room (or middle of the wall) will save lots of time and heartache after the fact if the tiles do not line up and match.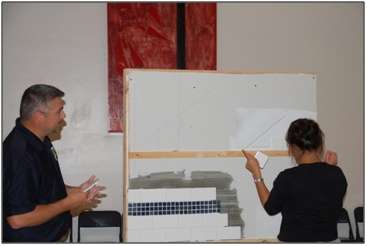 Another crucial tip from Nathan is that tiling bathtubs is a job that is not to be taken lightly – it requires special setting materials that won't allow water to seep in and ruin the tiles.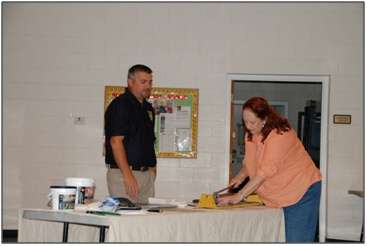 The best part of the evening came when Nathan drew the winning name for the winner of the FREE Handyman For A Day, which Moss donated as an attendance prize. I had just said to Nathan "You can pick as long as it's not Ginger because she had to leave early!" Guess what? He drew Ginger's name! Luckily, we were able to get in touch with her and she was all too happy to come back and claim her prize. Congratulations to Ginger Awig!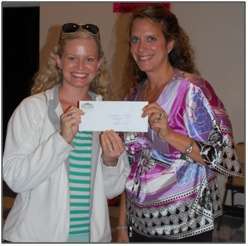 Jenn Zschunke is a part of the Community Relations department. She plans HandyMom 101 workshop programs for Moss and coordinates philanthropic activities in her local community.