By: Jenn Zschunke (JZschunke@MossBuildingandDesign.com)
Patchin' Mamma
Three boys.
Two trips to the emergency room.
Two holes in our walls.
Considering the first statistic, I would have assumed I'd have more of the latter two. Fortunately, that is not the case. Since I am not a doctor, I didn't personally fix those injuries that sent us to the hospital. But the walls? Well, that's a different story. I have zero excuses to not patch those holes, considering I have been setting up MOSS' HandyMOM 101 workshops for over three years – and one of our most popular workshops is "Patch It." The intent of the workshops, of course, is to educate and empower women to tackle home improvement projects, like patching holes in walls caused by, say, errant toys or children's heads. I set my nerves aside, put on my imaginary hard hat, and set to work!
The holes in the walls (the source of the holes will not be named for privacy reasons) were superficial in nature. Meaning, they were in drywall that was not being used for hanging anything heavy nor would need to be repaired with more support behind them. So, that told me that the fix was one of the easier ones.
I gathered my materials from Lowe's, including joint compound (referred to as drywall "mud"), mesh patch squares that adhere to drywall, a metal joint knife (plastic is less expensive but not as effective), a sanding wedge, primer, paint, and drop-cloths!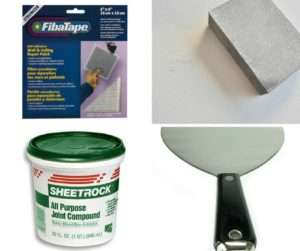 Step #1: I made sure the holes didn't have anything sticking out from them, and sanded them a bit to make them smooth.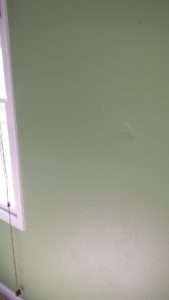 Step #2: I (and my son) pressed the mesh square on the holes and made sure they were sticking well.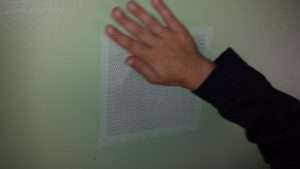 Step #3: I used my joint knife to apply the joint compound to the wall on and around the mesh square location – and this is important! – I made sure to go a good distance around the original square. Then, I feathered it out so it blended in well. This step is really crucial to making sure that your patch is easily covered up and looks seamless with your primer/paint. It doesn't have to be thin or thick at this point – just make sure that you can't see the mesh lines.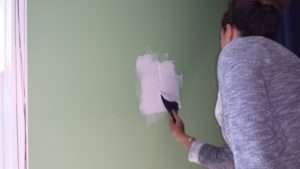 Step #4: After letting the joint compound dry, I sanded it – this is messy – and ran my hands over the holes to make sure it was pretty smooth. Then, I did another layer of the joint compound. Again, you don't have to use a ton, but you need to use enough to cover the mesh lines. Applied smoothly, and then when sanded, you won't be able to see anything at all of the mesh square.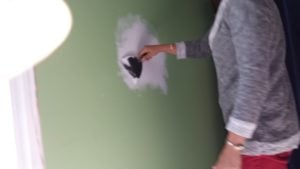 Step #5: After letting layer #2 dry, I sanded the walls again. This is the part that always worries me. But I tried to use common sense (and my education from the HandyMOM 101 workshops) to sand to the point that the wall felt smooth on my hands and couldn't see any of the mesh square. I was reassured by the professionals at our office that I was doing it right, and that after the priming and paint it would be fine!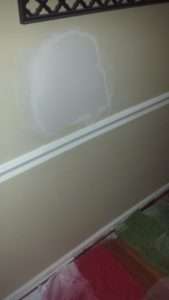 Step #6: Primer! I put primer on the walls and made sure it covered all the sanded joint compound as well as even farther out on all sides. Even though the holes weren't huge, it's important to prime and paint a pretty large area/almost the entire wall – again, you want your repair to look as seamless as possible. Let the primer dry.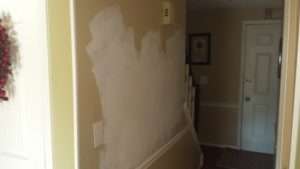 Step #7: Primer round #2. Dry.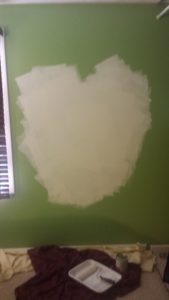 Step #8: Paint layer 1. Dry.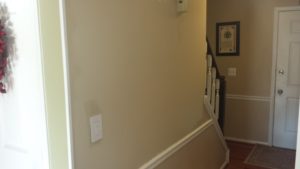 Step #9: Paint layer 2.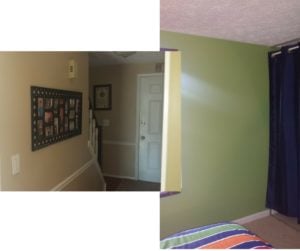 Step #10: Congratulated myself with a nice glass of wine and stared at the walls.
Northern VA Handyman
Actually, step #10 should be that I felt incredibly proud of myself for fixing the walls. The empowerment that MOSS teaches to the local community came back to me, ten-fold. And the cost was minimal. If I can do this, anyone can. And now, I'm contemplating becoming a Tilin' Mama, and installing my own kitchen backsplash.
Jenn Zschunke is part of Moss Building & Design's Community Relations Department. If interested in planning a HandyMOM 101 or HandyGirl 101 workshop programs, contact her at JZschunke@MossBuildingandDesign.com.