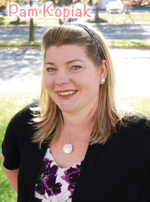 by Pam Kopiak (PKopiak@MossBuildingandDesign.com)
Basements. If you don't have one, you long for one, and if you DO have one, you're probably wishing you could remodel it to make it more functional. I currently have a "partially finished" basement in my house which just means that the owners before us chose to block off a section to finish and leave the rest a scary dungeon as storage space. At some point in the (hopefully near) future, I would love to finish the entire basement and incorporate some of these 'trifecta' elements that are key when finishing a basement. Check out these finished basement ideas from this MOSS basement remodel in McLean, VA.
Family Space
This is usually number one on people's list. Create a cozy space for yourself and your family to hang out. When you have a great space to relax, you're more likely to be the house where the kids gather, so you can keep a watchful eye on those teenagers (wink wink). This MOSS remodel also features great built-ins that really give the space both function and style.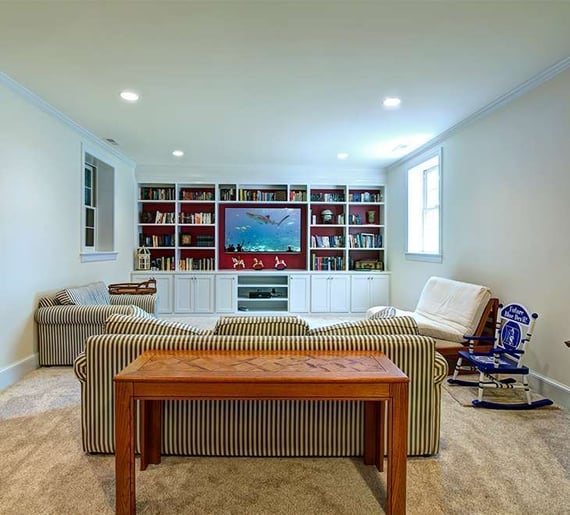 Kids Hang-out
If you want your kids to be close but not on top of you, create a place for them to play in that is separate from the family area. I know this is a luxury to some, but if you have the space, this is definitely something to consider. This basement has PLENTY of room for them to work out that energy while you catch up on your "programs". Real Housewives anyone?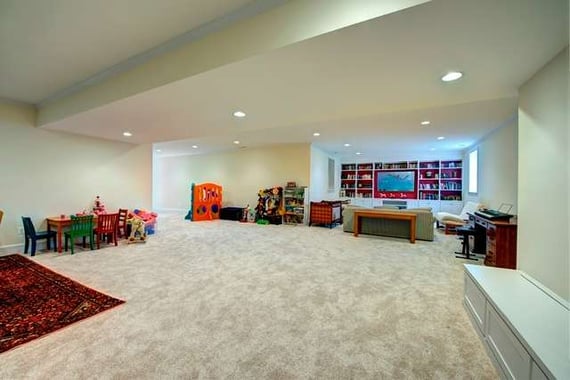 Time For A Drink
Great family area – check. Kids area to distract the little ones – check. Bar area to relax with your fellow adult friends – check! This MOSS customer added a fully functioning basement kitchen with a bar which can really be useful when having guests over. I can keep an eye on my kids AND enjoy a nice beverage? Sign me up.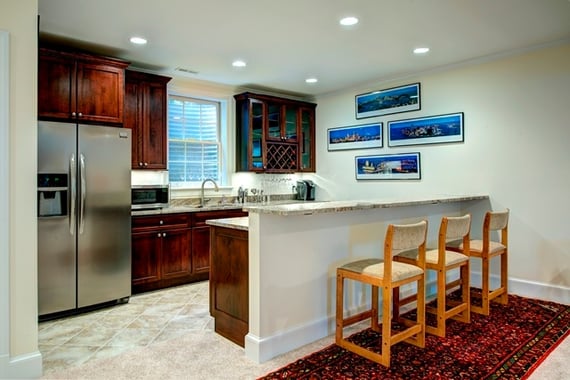 If you are looking to renovate your basement and just don't know where to start, the professionals at Moss Building and Design are always available to answer questions and share ideas. If you would like to discuss your remodeling plans or have general questions call MOSS at 703.961.7707 or email Sales@MossBuildingandDesign.com.
Give us a Call: 703.961.7707
Send us an email: Sales@MossBuildingandDesign.com
Get Inspired: Portfolio