An Addition Will Go A Long Way
Additions are very versatile which is why they appeal to so many people. The addition that you choose is a long-term commitment, and as your needs change, how you use your addition will change as well.
Five basic options for additions include:
Bump-outs
Single-room additions
Two Story additions
Second Story addition (which can include an Over garage addition featured in Wednesday's blog)
In order to choose which of these additions might fit your needs best you should consider what function you want your addition to serve. Do you want additional bedrooms or bathrooms? Do you have enough closet space? Would you like a space with a view? Do you need a structure with a private entrance?
Getting Started With Your Addition
When considering an addition, there are many things to take into account including your budget, how an addition will match up with your home, and your needs. It is important that you choose something that fits your budget, but you also want to find the right fit for your home so that your addition doesn't seem out of place.
From every aspect, an addition is a large investment. The ultimate goal of an addition is for longevity. You want your addition to act as a functional part of your home that will remain versatile.
Considering The Versatility Of An Addition
It might be helpful in your process of considering an addition to think long-term.
What are the needs for your family now?
How do you see your family's needs changing in 5-10 years?
Through the process of answering these questions, you might realize that the function of your addition may serve a different purpose as your family grows, your kids grow up, or more space is needed to accommodate family.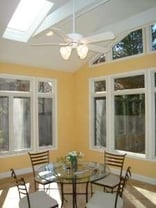 What may function as a nursery when your children are young could change into a playroom. When your kids get older, the room could change into a family game room or into an extra bedroom or guest room.
Even a sunroom can function as extra dining space and later can provide a sitting area.
In order to make sure that you are getting all that you can from your addition, make sure that the addition will grow with you and your family.
No matter the stage of your remodeling process, we would be happy to meet with you and discuss your needs and ideas. Contact us at 703.961.7707 to schedule a free consultation.
Moss Building & Design
Moss Building & Design is an award-winning remodeling company in Northern Virginia. We specialize in home additions, basement remodeling, and kitchen and bathroom remodels. As an established Virginia contractor, we know what it takes to transform your house into the home of your dreams. As a result of the countless requests by Moss Building & Design customers who already know and trust the Moss name, we also offer home services including plumbing, electrical, handyman, tile, roofing & siding, structural work and much more.