Moms Club of Falls Church-South Takes On Tile
Wait for it…wait for it… let me take it back for a second. Last Friday, the MOMs Club of Falls Church –South hosted Moss' HandyMOM 101 workshop at their monthly meeting. They came prepared (baby carriers and all) to get hands on with a tiling demonstration.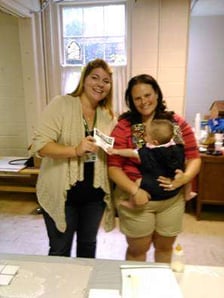 Above is the winner of our $250 gift certificate, Catina. Catina was one of the MANY ladies sporting baby carriers that day. Impressive, right?
Each participant receives a step by step guide when they come to our "Tile It" workshop. We try to make things easy. We tell you right up front what supplies you would need for the job and then we go step-by-step through the process to get you from contemplation to completion. Then, when you go home to try this yourself, you have this at the ready to consult if need be. As I mentioned to a couple of the ladies, this with the help of a YouTube video and you should be in business.
Damon, our Moss technician, did a great job walking the ladies though the demonstration. He fielded many questions from the group and had some great pointers as well. One of Damon's biggest recommendations is that when you are tiling a room, you should always start at the center and work your way out. This ensures that any pieces that need to be cut will be placed out by the corners rather than at the center and your sight line. And, if you are tiling a floor (vs. say a backsplash), think about tiling your way out of the room – just like mopping, as one participant shouted out. But, none of this occurs before you lay out your design. Take the extra time to lay everything out before you start. It is better to find out at the beginning if you need to make cuts or move something for the design before you put into too much work.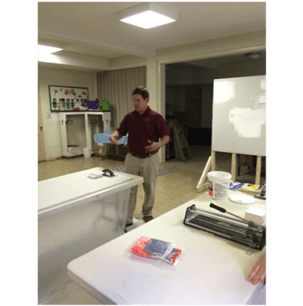 Before the ladies started with their own individual tiling project, they each got the opportunity to use the tile cutter. If you have never used a tile cutter, it is actually pretty simple to use. If you plan to do a tilling project yourself, this is definitely something you should consider purchasing. And, as Damon pointed out, it is worth it to spend a little extra money to get a better quality product here.
Once the tile was cut, the ladies learned how to spread Thinset and place the tiles, using spacers in between. After that had a chance to set a bit, the ladies learned how to spread the grout properly and finished with how to clean up after that was all done.
Simple and easy, right? There were a lot of questions asked throughout the presentation. This is one of the greatest benefits to these workshops. You essentially have a chance to have a one-on-one with a handyman. We actually ENCOURAGE you to ask questions. How often do you get a chance to do this? And the questions don't always have to do directly with the topic at hand, sometimes they stray to power tools (as they did with our recent HandyMOM 101 "Patch It" workshop, sometimes they are more geared towards personal projects you might be working on at home or that you might be considering for the future. What a great way to get started and get some information while also getting some hands-on experience!
If you would like to schedule a HandyMOM101 workshop in the Arlington region, please contact me at PKopiak@mossbuildinganddesign.com.