By Pam Kopiak (PKopiak@MossBuildingandDesign.com)
The weather has finally cooled down, my kids are back in school and Pumpkin Spice lattes are readily available in the coffee shops again. This must mean one thing, Fall is upon us! Oh how I love Fall, nearly as much as the first day of school (for my kids of course). It's my favorite season by far. I truly appreciate the cooler weather after spending much of the summer hiding inside. This is the time to get back outdoors and gather with your family and friends once again before the winter creeps up on us. Now is also the perfect time to update your porch to host these gatherings.
If You Build It They Will Come
If you don't already have one built on the front or back of your house, now is a good time to do so. As an Arlington homeowner of a very modest (older) home, I often dream about having a great big porch. This porch in Oakton, Virginia is a great example of a beautiful outdoor living space. There is plenty of seating and the screen will keep those pesky late season bugs away.
Enjoy the Outdoor Surroundings
This picture below shows how you can continue the gathering outside of the screened in porch area. If you're looking for patio ideas, consider something to grab guests' attention such as this waterfall feature. Another option could be a nice fire pit where people can gather around, especially during this fall weather. Did someone say S'mores? Try this DIY fire pit from This Old House.
Make It Warm and Cozy
This McLean, Virginia porch feels warm and inviting for any season. If you are looking for outdoor ideas on decorations, think about incorporating a few blankets and pillows into your seating arrangement (Home Goods anyone? I LOVE that store!). A porch like this would also be a great place to add some speakers, so the party can last well through the night in the enjoyable weather!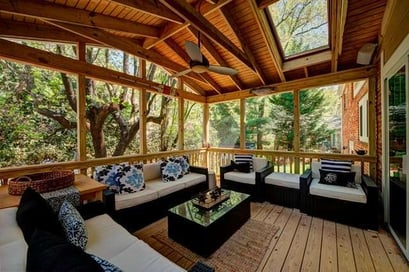 If you are looking to update your porch, the professionals at Moss Building and Design are always available to answer questions and share ideas. If you would like to discuss your remodeling plans or have general questions call MOSS at 703.961.7707 or email Sales@MossBuildingandDesign.com.