Moms, Babies & Drywall Patching…Why Not?
By – Jeannine Miller (jmiller@mossbuildinganddesign.com)
On October 4th, I had the privilege of joining the Vienna Presbyterian Church Mothers of Preschoolers (MOPS) group for brunch and a little Virginia home improvement education. MOSS owner, Pete Hampel, gave an educational talk and showcased a few of our gorgeous projects and Moss Home Services GM, Nathan Shaffer, followed with a HandyMOM 101 Patch-It workshop.
The MOPS Coordinator, Lauren Shapiro, attended a HandyMOM 101 this past spring in Oakton VA and thought this group would really enjoy it. They obviously did because several of the ladies tried their hand at home improvement by patching and the results were pretty darn good. Member Kathryn Effley is a 3-time HandyMOM 101 attendee and has put her home improvement skills to good use. Realizing that her kids are much more likely to hang towels on hooks than a towel bar, she yanked out the towel bar, patched up the holes and installed hooks. Check out her work!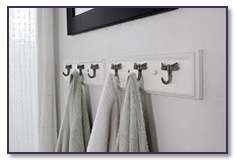 Whenever an organization hosts a HandyMOM 101 workshop, Moss gives them a Handyman For A Day as a thank you gift, which the group can use however it sees fit. Some groups give this gift (valued at $650) as an attendance prize, some give it to a member in need and others save it for a future fundraising auction. The VPC MOPS decided to use it as a quick fundraiser to he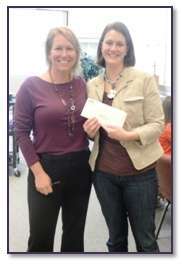 lp replenish their kitty. They sold raffle tickets to members and were able to raise over $400 in one morning. Lucky winner Stephanie Seckinger is already planning what home services she will have done with these eight hours of handyman work.
It was really fun spending the morning with this lovely group of women. If our HandyMOM 101 workshop series sounds like something your group would like to try, please let me know!