Putting Luxury in a Bathroom Remodel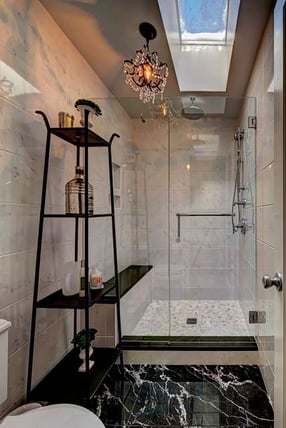 By-Madeline Pillow (MPillow@MossBuildingandDesign.com)
The bathroom and especially the master bathroom is a space for rejuvenation and restoration.
This is why homeowners want aspects of luxury in these spaces. Through calming colors and fine details, this is a room where you can relax in a soothing bubble bath, get energized through an updated shower, or enjoy some "you" time when getting ready in the mornings.
Depending on your taste and definition, luxury can range from the size of your master bathroom to smaller details such as the lighting.
The Washington Post recently featured a photo gallery with "The Top 12 Luxury Features in Bath Projects." These features range from lighting to technology like towel warmers.
A Moss Building & Design project was featured for the #9 feature for skylight/solar tube. This is guest bathroom remodel in Fairfax Station, VA, that also included 2 additional bathroom remodels, an addition, and a kitchen remodel.
To view the Washington Post photo trend gallery, view more here.
Top Northern VA Remodeler
MOSS helps residents in Northern Virginia make remodeling and home improvement decisions that work for their lifestyle and family. We are your advocate: helping you make informed decisions during a remodel. To get started on your remodel, no matter what stage you are in, call MOSS at 703-961-7707.