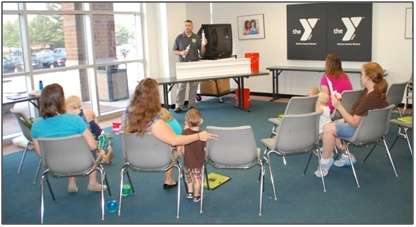 MOSS Brings HandyMOM 101 to MOMS Club of Reston

By – Jenn Zschunke (jzschunke@mossbuildinganddesign.com)
On a bright, sunny Wednesday morning, MOSS ventured into Reston, VA to bring our "Caulk It" HandyMOM 101 workshop to members of MOMS Club of Reston. As with all MOMS Club events, children were welcome at the meeting – so with the addition of some young future caulkers, we enjoyed a fun morning of sharing knowledge with a great group of moms.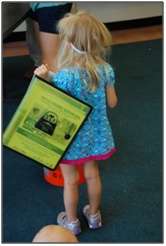 I took a moment to confess to the group that I am still a novice when it comes to caulk. When my husband and I were prepping our house for sale this past spring, I had NO IDEA that a caulk gun was something to be used. I literally took the caulk tube, clipped open the top of the pointer and pushed on the inside with my thumb to get it to work (think Cheez Whiz). My impression was that caulk was a difficult and very tough thing to do. It was only when my husband presented me with our caulk guns (turns out we own three) that I realized that I was making a mountain out of a molehill. Hence, my interest in continuing to learn the proper caulking technique --- and feeling like sharing my incompetence makes our workshop attendees know that we all start from somewhere!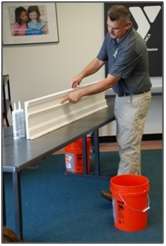 As with all HandyMOM 101 workshops, we got lots of questions. MOSS expert, Nathan Shaffer, answered questions ranging from caulk selection (indoor vs. outdoor, tubs and showers) to which tools to buy. (Nathan definitely recommends spend a few more bucks for a tool that will work well and make your caulk job last a long time.) The ladies used the hands-on time to really get a feel for how the caulk should look and be made precise.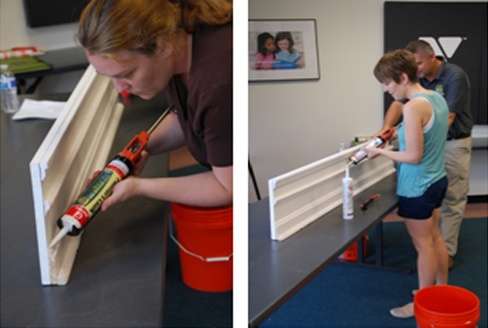 Ever the pro, Nathan spent time after the caulk presentation and hands-on portion to answer the group's general questions about home remodeling, repair and upgrades. There are always concerns about changes to homes in Reston, as there are specific guidelines with regard to all manner of home improvement. Luckily, Moss is an experienced contractor in the area and is able to work with homeowners to make sure all bases are covered.
Jill Teague, who won the FREE Handyman For A Day attendance prize, is delighted to be able to conquer the many to-do's on her list. Thanks, Jill, for spending your morning with us and thanks to MOMS Club of Reston for the warm welcome!
Jenn Zschunke is a part of the Community Relations department. She plans HandyMom 101 workshop programs for MOSS and coordinates philanthropic activities in her local community.