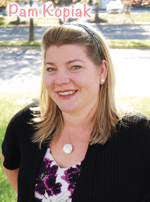 By Pam Kopiak (pkopiak@mossbuildinganddesign.com)
The phrase "Back To School" conjures up images of me going shopping with my father in search of new clothes, the many maligned school supplies (crumpled list in hand) necessary to complete the new year and most importantly, the BRAND NEW backpack. I mean, that thing was going to be with you day in/day out for a WHOLE year. It had to be JUST perfect right?
Well, apparently there are a LOT of people (in our area alone) that cannot afford that luxury. These folks cannot even afford to get the required school supplies more or less a new backpack every year. This is where community involvement comes in hand. You know that saying "It Takes A Village"? Well sometimes it really does. MOSS is reaching out to help children around the area get what they need to start another successful school year.
Cornerstones
Community Relations Manager, Jenn Zschunke, headed up a summer time mission with her kids to shop for backpacks and then deliver them to Cornerstones in Reston, VA. They are still accepting donations here if you are interested in donating.
Homestretch
Community Relations team member, Zaiba Hasan, spent a day in June helping out at the back to school backpack drive at Homestretch in Falls Church. Even though the school year had JUST ended, it was already time to look ahead to the next year for those who can use some assistance.
Doorways For Women And Families
Last but not least, I also took some time to brave the crowds to do a little back to school shopping as part of MOSS' pledge to sponsor a child (a 4th grade girl – yay!) for Doorways in Arlington. Ruler? Check. Markers? Check. Feeling a great sense of pride helping someone in need? Check.
There are plenty of Back To School drives out there that could use some help. If you don't know of a local cause, NBC4 will be hosting a Backpacks 4 Kids donation drop off on August 24th at the Apple Federal Credit Union in Kingstowne, Alexandria - you could even meet Erika Gonzales or Amelia Draper if you're lucky!
If you would like to discuss your remodeling plans or have general questions call MOSS at 703.961.7707 or email Sales@MossBuildingandDesign.com.