Home Improvement Tips for Handy Moms
Moss Building & Design offers a series of workshops for moms' groups in Northern Virginia who are ready to tackle home maintenance jobs, but need someone to show them how.
With the HandyMOM 101℠ program, MOSS hopes to cover some of the smaller items on homeowners' "honey-do" lists by empowering women to tackle those items themselves.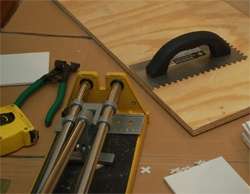 Each HandyMOM 101℠ workshop will include a presentation by a MOSS pro, followed by a hands-on station where attendees will get to try their skills under MOSS' watchful eye. Our HandyMOM 101 workshops include:
Design It- how to get started in the design process, discuss different design trends, and experience the latest tools in MOSS' Superior Design Experience such as MOSS 360
Hang It – how to hang heavy things so they are level and will stay put
Power It- learn how to use common power tools for household repairs
Patch It – how to make large and small drywall patches that won't show
Tile It – how to plan and lay tile, cutting if needed, and grout to finish
For more information about hosting a HandyMOM 101℠ event, email our Community Relations Department at Community@MossBuildingandDesign.com or call us at 703-961-7707. Visit us on Facebook to learn more about HandyMOM 101℠!