Northern VA Basement Bathroom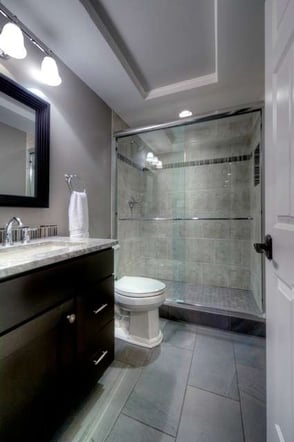 By – Jenn Zschunke (jzschunke@mossbuildinganddesign.com)
There are many ways to have a finished home space that you and your family love all while staying in your budget. One way is through the addition of a basement bathroom that can be extremely beneficial to a family's vision for their basement, add good value, and really "finish" a basement to make it a space with even more appeal (especially also to guests!).
One way to think about the addition of a bathroom in the basement is that if spaces (like a laundry room or storage area) have been left unfinished, there is room to maneuver walls to create a small area for a bathroom.
Basement Remodeling in Northern Virginia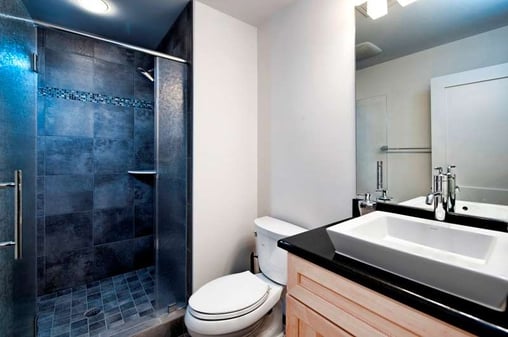 How would this addition make your basement space feel? Basement ceilings are lower than above-ground rooms, so, Moss would be able to work with your family and accommodate your needs to make a bathroom work and feel as open as possible.
If your family is considering adding a wet bar to your basement, and/or having a media room be part of your remodel, the addition of a bathroom is a logical step. It would benefit any activities you have in the basement and complete the feeling of the room, especially during gatherings for sporting events such as the World Series or Super Bowl.
A step further might be including the addition of a bedroom. There are restrictions on what is considered a legal basement bedroom so do the research necessary before any final designs or remodels (Moss assists in this process with all remodels).
Whatever your family might decide, you can rest assured that Moss will do all that is necessary to design a basement bathroom that meets your families' wants and needs.
Basement Contractors in Northern Virginia
Whether you want to finish your basement to be an in-law suite, media room, entertainment space, or to add guest rooms, we can help make your renovation dreams a reality. To schedule a free estimate or to speak with a Moss professional about your project, call us at 703.961.7707 or email us at Sales@MossBuildingandDesign.com.