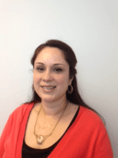 By: Zaiba Hasan (ZHasan@MossBuildingandDesign.com)
The other afternoon I met a friend from my daughter's school in McLean, for a walk around the neighborhood before pick-up. She casually mentioned that MOSS was coming out later that week to give her a free in-home consultation on a possible addition and bathroom remodel. She excitedly began to tell me the different design ideas that she and her husband had been talking about for years! However, the one thing that caught my attention was how they planned on adding space to their current Cape Cod without drastically altering the elevation. Lucky for them, MOSS has an expert team of home-building professionals with many tools at their disposal (like MOSS 360)! Peaking my interest, I decided to reach out to another good friend, realtor Sara Bjerde, (who also happens to be a resident "McLeanian"). I asked her what the top three home-styles in McLean are and what, if any, addition-solutions Moss Building & Design could bring to the table.
Remodeling in McLean
If you happen to be in one of the neighborhoods that haven't all "turned" (and by "turned" I mean where the older homes have been completely torn down and re-built), your housing styles tend to fall into one of three categories: cape cod, rambler or ranch. Perhaps what started off as your starter home doesn't necessarily fit your family needs (2-3 kids later) now. So, with a couple of different addition-models you can alter the blue print of your home while still maintaining the integrity of what you love about your home!
"Pop-Up" Addition
A pop-up is when you add an additional floor to your home. This type of addition is usually great for the ranch-style home. You can literally double the square footage without using any of your land (which in McLean is a commodity these days).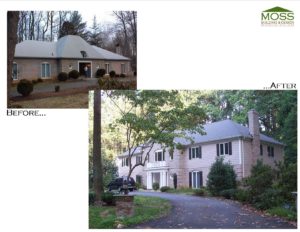 "Two Story" Addition
An envelope addition usually means adding partially to a 2nd floor and wrapping around the home onto the first floor. Picture a master bedroom addition and great room addition. This type of remodel is perfect for those 3 bedroom ramblers here in McLean. Mom and Dad decide that sharing a bathroom with their 5 year old is getting old so they decided to build a bedroom/bathroom oasis on the 2nd floor and BONUS, Great Room, on the main level. This type of addition tends to be the MOST effective way of adding square footage without a huge budget!
"Bump-Out"
If you are looking to add a little bit of space without breaking the bank, many people opt to add a bump-out to their main floor. This is great for expanding your current kitchen, adding an additional main floor bathroom, or simply creating a new office space. I see a lot of Cape Cod style homes here in McLean with a back bump out! This allows for additional square footage without drastically changing the charming elevation of what you love about the Cape Cod feel!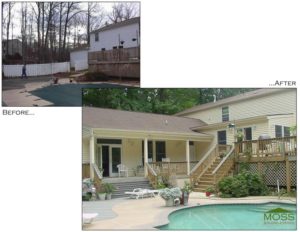 Best Northern VA Contractor
At MOSS, we'll provide you with innovative design concepts that add space to the kitchen and recommend layouts, cabinets and accessories that will help you maximize your space. If you are considering bumping out your kitchen or simply have a few questions you need answered, contact MOSS for a free consultation at 703-961-7707.
Until Next Time,
Z