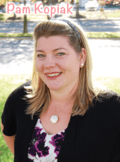 By: Pam Kopiak (PKopiak@MossBuildingandDesign.com)
Time to Change Things Up
I recently vented to my friends about how much stuff there was in my house after the holidays. It was totally overwhelming. I have 3 children, the youngest being just six years old. So as you can tell, we already had too many toys laying around. But, I am probably preaching to the choir here. Aren't most of us swimming in a sea of toys and misplaced children's items? Well, enough was enough. I was spurred into action. That toy room that I had begun to despise HAD to change. And so it began.
Before
This is what I was dealing with before I decided to take drastic measures. This doesn't even begin to tell the story because I had already taken down the old drapes that really made the room feel closed in. Also, the clutter is present, BUT had been straightened up somewhat (all my son's legos were strewn about before). There was too much stuff in such a small space!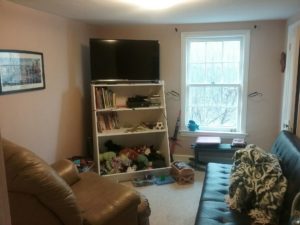 After
Sometimes it can be very difficult to decide what to do in your own space because you have blinders on. I had seen the space as a toy room for six years so I was having a hard time envisioning it as a different space. I turned to my good friend, Wendy Pilch, of Spendalla Personal Shopping for some design advice. I had already seen her gorgeous home and knew she would be able to guide me in the right direction. And that she did!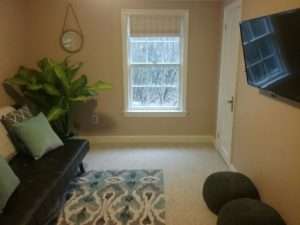 By clearing the room out first, we were able to configure a plan to transform the small space into a sort of tween hang out spot. We started by mounting the tv on the wall and changing the outdated light fixture. The next step was to change the window treatment which really made a difference. And thanks to my HandyMOM 101 Patch It skills, we were able to patch right over the holes left by the curtain rods and tiebacks. The final step was to fill the room with all new accessories. New pillows, painting, mirror, and two poufs. Poufs? Yes, apparently they are the new thing right now and I am loving them. The space feels entirely transformed and now I can't keep my 11 year old out of there! I call this a success.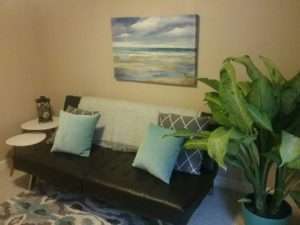 Northern Virginia's Best Remodeler
Did you know that not only was Moss Home Services just voted The Best Handyman 2017 by the readers of Arlington Magazine, but Moss Building and Design is also the reigning Best Remodeler?! Thank you so much for your support throughout the years, and we look forward to being your one stop shop for all your home improvement needs. If you are thinking of a home remodel, the professionals at MOSS are here to help. If you have general questions, call MOSS at 703.961.7707 or email Sales@MossBuildingandDesign.com.