Moss Brings HandyMOM 101 "Patch It" Workshop to DC Metro Mommies

By – Jenn Zschunke (jzschunke@mossbuildinganddesign.com)
Moss recently presented our hands-on workshop to the members of DC Metro Mommies (Herndon/Reston chapter). The 'steak knife vs. drywall knife' debate was just one of the many ways that this group of ladies showed us they were there to learn and to laugh.
Hosted by Kristen, my team arrived to find some very enthusiastic moms who dove into the presentation portion of the program with gusto. They took pages of notes, asked informed questions and provided details about their own home projects that led to further discussion with our techs. These open discussions are helpful to both Moss and the women in attendance. On our end, it guides us with regard to preparing future presentations and what today's women are interested in. As for the workshop attendees, they learn a little bit about a whole lot of home-related situations in addition to the workshop topic for which they came.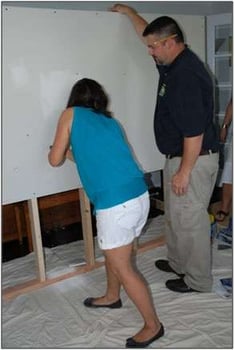 Our fearless "Patch It" expert and Moss Home Services GM, Nathan Shaffer, demonstrated how to patch small holes, including what materials to use and where to buy them. Veronica , one of our favorite attendees who asked the infamous steak knife question (the answer is "preferably not"), also asked how long to wait after applying mud before sanding. As a mother of twins, she admits that her time [and patience] for completing household tasks is limited. As the group learned, sometimes you just have to wait overnight…and figure out a way to keep the kids away from the patch job!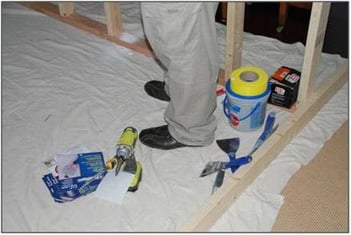 Moss strives to provide an excellent workshop that is both helpful and entertaining. One attendee, Julie, offered the following observations afterwards "I told someone else about it who likes to DIY and she said, Oh, you can just look up that stuff on YouTube. Oh, no, I said! It's so much more comprehensive and helpful than YouTube. First of all, YOU CAN ASK QUESTIONS! Also, the instructor explained what type of tools to use and which ones they sell at Lowes vs. Home Depot. At Patch-It, the demonstration was done with a big piece of drywall, so we could really see how it was done and try it ourselves-can't do that on YouTube! And other moms gave their advice and experience too, which was really useful. Overall, I thought it was FABULOUS and it was done in a fun and casual manner too!" Thanks for the glowing feedback, Julie!
We had a great time with a fun group of ladies, who showed us yet again that moms these days are smart, funny and ask sharp questions. That's a little steak knife humor for you. :-)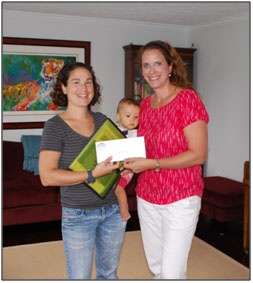 Jenn Zschunke is a new addition to the Community Relations department at Moss. She plans HandyMOM 101 workshops for Moss and coordinates philanthropic activities in her local community.