Independence Day Kitchens?
Red, white and blue doesn't necessarily seem like colors that you would find in a kitchen…together. Since the 4th of July is tomorrow, we thought it would be fun to look at some kitchens that do use those colors. Some achieve an all-American look and feel, while others remain sleek and modern.
Red, White and Blue Kitchens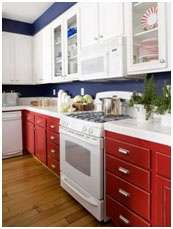 This kitchen finds a way to make the red, white and blue work with blue walls, red cabinets, white cabinets and counters. It definitely has an, all-American feel to it.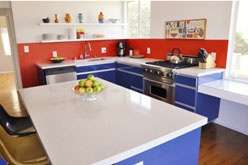 The kitchen remodel above has a sleeker look than the first kitchen and updated appliances. The blue is brighter here and used on the kitchen island and cabinets around the kitchen. I personally prefer the first kitchen and it's not-as-bright look.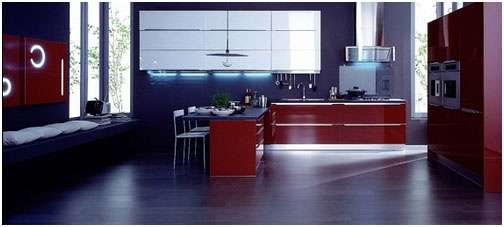 This red, white and blue kitchen does not feel as patriotic as the others, but I doubt that it was intended to look all-American. It is much more sleek and modern. The colors definitely work great if you want to achieve a sleek, modern look!
Arlington, VA Kitchen Remodel
You may have seen some photos of the red, white and blue kitchen remodel and home renovation we did in Arlington, VA. Not only did the homeowners use those colors in their kitchen/dining area, but they also used them throughout their entire home! Although this remodel wasn't designed with the 4th of July in mind, it certainly works.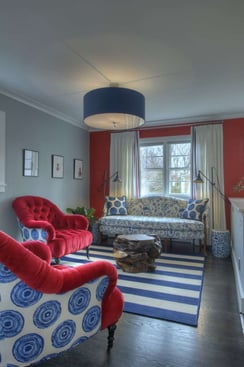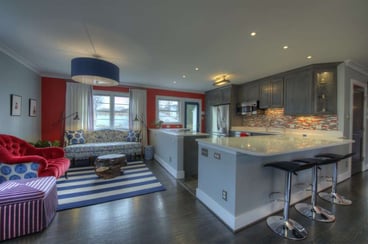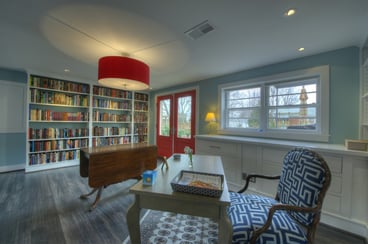 I would conclude that red, white and blue can be used together when remodeling your kitchen and other areas of your home. As long as it is tasteful and done correctly you can have a bold, beautiful red, white and blue kitchen!
**For 4th of July crafts and recipes check out our Pinterest page!
Moss Building & Design, Northern Virginia Kitchen Remodelers
Not every red, white and blue kitchen is going to have that patriotic feel. Some are going to look more modern, since bold colors like reds and blues are on the rise in the remodeling world. Whether you want a patriotic kitchen or something a little more subtle, Moss Building & Design is here to help every step of the way! For a free estimate please call us at 703.961.7707. We specialize in home additions, basement remodeling, Northern VA kitchen remodeling & bathroom remodels. As an established Northern Virginia contractor we know what it takes to transform your house into the home of your dreams. As a result of the countless requests by Moss Building & Design customers who already know and trust the Moss name, we also offer home services including plumbing, electrical, handyman, tile, roofing & siding, structural work and much more.