By: Leora Kahn (LKahn@MossBuildingandDesign.com)
At MOSS, we host open houses because we believe it is of great importance to see what we can do, in person, before investing in your remodel. Plus, the ability to speak candidly with previous customers allows you to make an informed decision.
Best Design/Build in Arlington, VA
Last week we hosted an open house to show the Northern Virginia community our latest three story addition in Arlington, VA. The attendees seemed to be very pleased with the kitchen bump out, extended dining room, and outdoor living space.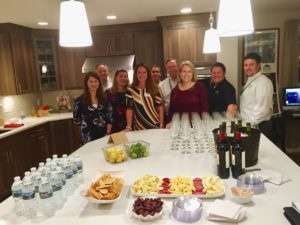 The homeowners of this 1965 home were considering remodeling their home for quite some time. When two trees fell on their house, they knew there was no putting this off any longer.
When planning their home improvements, their goals were very precise:
An eat-in kitchen with plenty of room to accommodate all family members
An open, informal space for entertaining
Maximize deck space for use in at least three seasons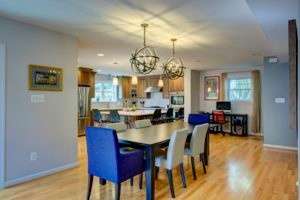 They decided to design their new dining space with a transitional style which seamlessly combines elements of both contemporary and traditional styles. The final result was a beautiful Arlington home that reflects our customers' lifestyle and personal taste.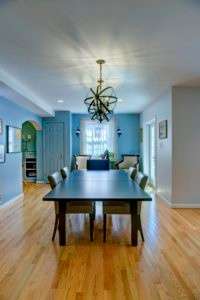 The dining room's extended table is complete with two navy Miles Upholstered Dining Arm Chairs and four smoke leather Lowe Dining Chairs, both from Crate and Barrel. The room is well lit with two beautiful small Zinc Orbit Globe Chandelier's above the table, which is a huge trend in the interior design world at the moment.

Prior to renovations their kitchen was too small to accommodate their family's needs. Making meals, hosting family gatherings, and even just simple family time felt forced and cramped. This was one of the homeowner's main focuses that MOSS worked closely with them on to incorporate all of their wants and needs into the final product.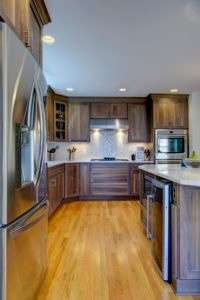 Their kitchen is composed of a Maytag 30" electric double wall oven with Precision Cooking System, a GE Stainless Steel beverage center, and Thermador 36" gas cooktop. The main attraction, the kitchen island, is Blanco Maple Silestone accompanied by five charcoal Peppermill Counter Stools from West Elm.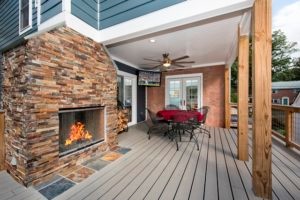 The deck attached to the kitchen and dining room is another main attraction. This outdoor living space is complete with a wood-burning fireplace, outdoor ceiling fan (Minka Aire in brushed nickel to be exact), patio dining table, and corner television for the sports-fanatics of the family.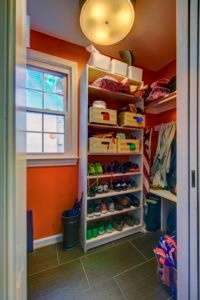 We also incorporated a mudroom in their entryway as an easy way for their family of young boys to store their belongings when they return home from their busy lives. The mudroom is painted a bright Obstinate Orange, with an eggshell finish by Sherwin Williams.
Best Remodeler in Arlington
Did you know that Moss Building & Design was voted Best Remodeler in Arlington Magazine's Best of Arlington 2016? At MOSS, we'll provide you with innovative design concepts and recommend layouts, cabinets and accessories that will help you maximize your space. If you are considering bumping out your kitchen or simply have a few questions you need answered, contact MOSS for a free consultation at 703-961-7707.