Every customer who comes to remodel their home with MOSS brings with them a different set of challenges. Every space is unique and sometimes customers have a different vision of how they want that space to function. In this blog series, we will highlight specific problems customers want to address in their home and how MOSS helped find those solutions.
The project: an addition featuring a kitchen, mudroom and game room
Style: transitional
Duration: ~5 months
Quote-able: "It all started because our oven was too small."
The Kitchen
Small Oven Be Gone
Problem: It all started with a small oven.
The lack of elbow room by their oven was one of the last straws in convincing these homeowners in Centerville, VA it was time to move forward with an addition.
Solution: Being able to comfortably cook in their kitchen was an important part in their decision to remodel so to address this concern, the homeowners had a double oven installed. By bumping out the back of the house, they were able to reconfigure the space for plenty of elbow room.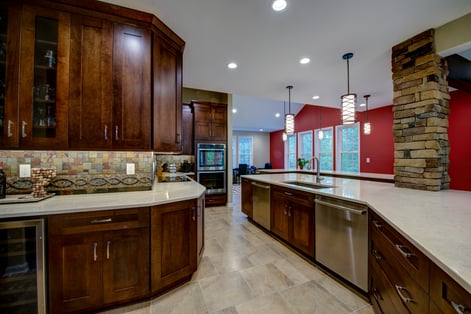 Counter Space: "I think we solved that problem"
Problem: Lack of counter space in the kitchen.
Solution: With the addition off of the kitchen, they were able to have more than enough counter space. The customers joked after the fact, "I think we solved that problem," referring to the L-shaped kitchen island that could be installed with the added space. "It works great as a buffet line for parties."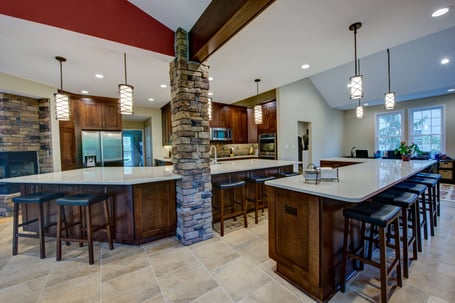 Adding Kitchen Storage
Problem: Lack of Kitchen Storage.
Particularly for these homeowners, having an ample amount of kitchen storage was a necessity. "I have every kind of maker there is."
Solution: With brand new kitchen cabinets, the homeowners now have more than enough storage. "Now I can go out and buy more plates since I have a place to put them."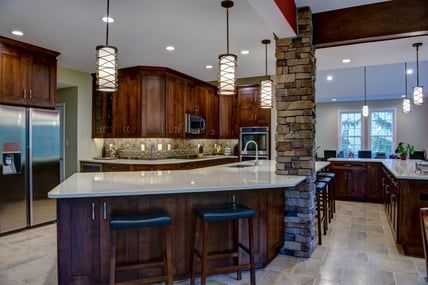 Stand Out Selections
Kitchen faucet: Kohler K-5283-NA Stainless Steel Strive 35
Wine fridge: EdgeStar 46 Bottle Built-In Dual Zone stainless steel wine cooler
Double Oven: 30 in double electric wall oven self-cleaning in stainless steel
Double Dishwasher: Bosch 800 Series 24
The Mudroom
A New Entryway
Problem: No mudroom
Having a mudroom was also a necessity for these customers, whose existing home didn't have one.
Solution: With the addition extending the first level off the back and side of the house, the space was reconfigured to allow the garage door to open into a brand new mudroom, rather than right into the kitchen. Simple built-in shelving and cubbies were installed for easy organization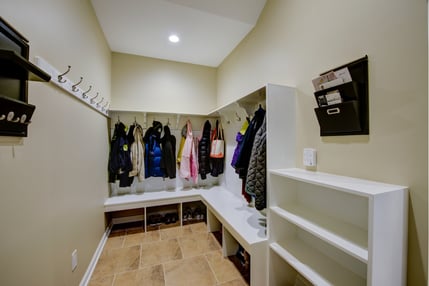 The Game Room
Another important thing for these homeowners was being the go-to hangout space for their kids. Always being on the run with sports meant family time was a huge priority. Keeping the kids close to home wasn't hard to do with the game room that was added to their basement.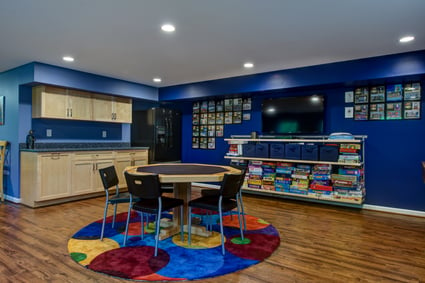 Like what you see here? Contact MOSS today about your own kitchen bump-out or any remodeling project for your home. We are ready to find the solutions for you and your family.
See our last Remodeling Solutions blog, Addition and Kitchen Remodel in Arlington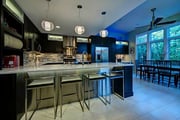 Give us a Call: 703.961.7707
Send us an email: Sales@MossBuildingandDesign.com
Get Inspired: Portfolio