Experience State of The Art Virtual Reality Design Capabilties
One of my favorite things about MOSS is the emphasis on improving the customer experience. Keeping with that emphasis, MOSS is hosting a fantastic event on Thursday, April 27th, where the brand new Design It workshop will be presented. The evening will offer attendees the opportunity to meet with the area's top designers, discuss potential projects and the latest design trends. You can even submit a picture of your existing space prior to the event and discuss it with a designer that night.
I've told you about MOSS 360, the virtual reality remodeling software that allows homeowners to "walk through" their proposed design and be sure everything is exactly how they want it before construction even begins. Come to this event and you can try MOSS 360 for yourself!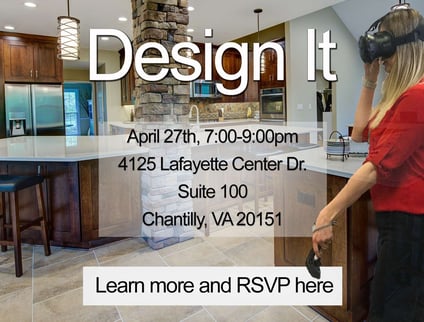 Check in and cocktails are from 7:00-8:00 pm. During this time you will have the opportunity to speak with a variety of MOSS designers, technicians, architects and sales consultants to discuss trends in your neighborhood, learn about the MOSS design process and discuss your own space and living concerns.
At 8:00 pm we will roll out our exclusive Design It workshop. You will learn how to begin your design process, be given insight into the latest trends and, finally, experience the state-of-the-art virtual reality design capability, MOSS 360.
As with all MOSS events, we will have great raffle prizes...an architectural concept design with MOSS 360 and a FREE Handyman For A Day, just to name a few.
The event is free, but you must RSVP to attend. Please pass along the invitation to friends who might be interested in attending. See you next Thursday!