Here at MOSS we love giving back to our local community and that is never more true than now, in the leadup to the holiday season. This fall, our team coordinated a donation of a mud kitchen to The Country Day School in McLean. A mud kitchen is an outdoor structure made from wood, pallets, and a sink, that helps kids explore the many textures of nature through playing with dirt, water, leaves, bark, and anything else they find outside. Often, this leads to children using the kitchen to create grass cakes and mud pies, hence the "mud kitchen" name.
One of our expert contractors, Richard, working with the community relations team and a project manager, designed and built the wonderful kitchen play structure for the kids from scratch. Working indoors, right in our storage room in Chantilly, the kitchen was quickly and beautifully assembled and then transported to McLean this week for installation. Complete with a sink, faux stovetop and oven, and hooks and shelving for pots, pans, and other kitchen accoutrements, the mud kitchen is fully equipped for all the upcoming learning-through-play adventures.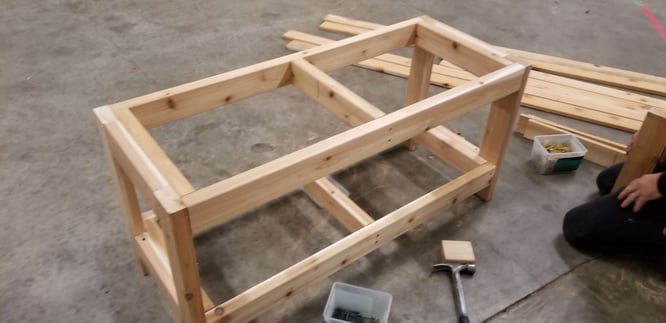 We loved working with The Country Day School and hope the preschoolers and teachers who use the playgrounds every day enjoy trying out their new outdoor kitchen. We also offer a special thanks to TW Perry, who donated the supplies and materials used to build the kitchen.