It always seems like it's a constant struggle to keep up with the mess at home and spring sure brings its own unique challenges. With the introduction of rain boots, sneakers, sports equipment, and sandals (boy, I can't wait to whip those out again!) also comes an increasing amount of clutter for the spring and summer season. One way to keep the clutter from extending into your home would be to create a mudroom.
Mudrooms are great because they allow you to keep things like jackets, umbrellas, backpacks, boots, and sports equipment handy, while still giving them their proper place that's not on the living room or entryway floor. Many mudrooms have built-in cubbies with hooks so each family member can have their own designated space. A built-in bench serves as a place to sit and remove dirty outerwear items. Drawers are also a great way to hide more seasonal pieces like scarves or gloves when the weather changes.
This Oakton, VA mudroom designed by Moss Building & Design uses removable baskets instead of permanent drawers to hide the clutter.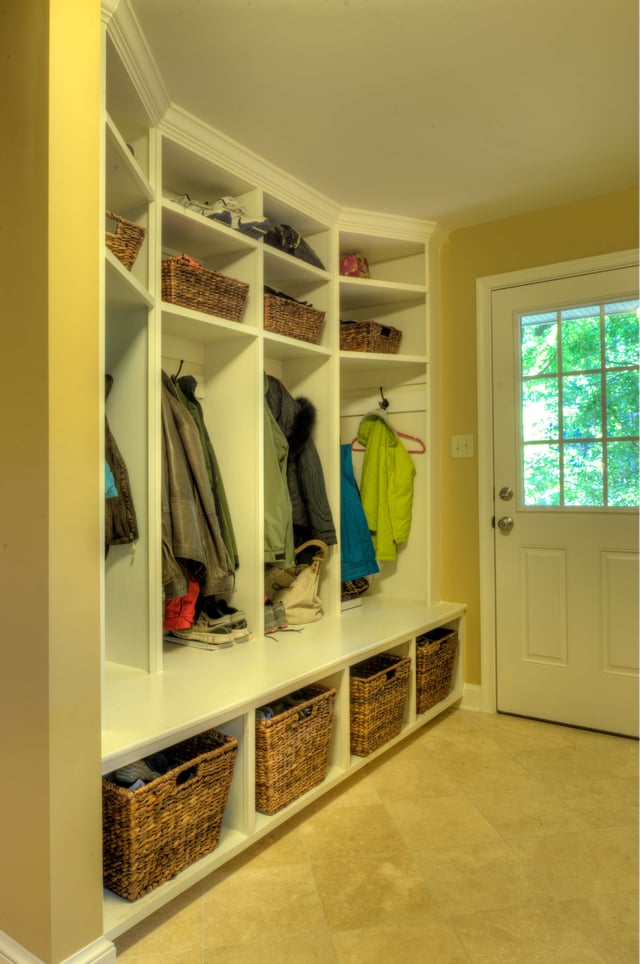 Some people add even more character to their mudrooms. If your family is full of sports buffs, you could model your mudroom after a locker room and install cubbies that resemble lockers. Or, if you'd like to hide the space — out of sight, out of mind! — and you appreciate more of a rustic look, you could use sliding barn doors to shield the clutter like in this MOSS project in Herndon.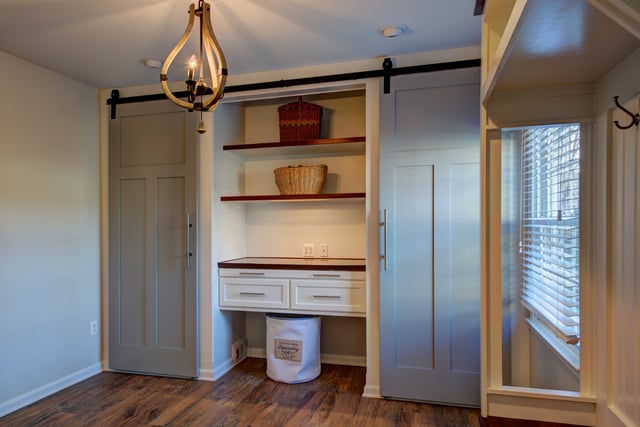 If building a mudroom isn't an option for you, there are still a number of great tips to keep you organized and kick off spring cleaning season. To help store some of that clutter, check out small bench options that include drawers and cubbies. As opposed to a mudroom that might take up a lot of precious space, the bench can be placed by almost any entryway. Alternatively, simply invest in some decorative bins that can be labeled by child or article of clothing.
For even more space-conscious storage options, think about how you can utilize your walls. You may have space to add coat hooks by the door that could replace a floor-hogging coat rack. For containing the smaller messes, hang small boxes, folders or mesh bags on the walls to collect things like keys, mail and school announcements. Pair that with a chalkboard or family calendar to jot down important reminders and events. This wall organizer on the blog Simply Organized has gotten me inspired to keep things tidy.
If you're interested in building a mudroom in your house, simply call us at (703) 961-7707 or email us at Hello@MossBuildingandDesign.com to learn more!