We're excited to highlight a few of our favorite home décor and design trends for 2018. This year, we're starting to see a pattern of "old is new again" with some of the new trends harkening back to previous design eras. Which of the following trends do you think you can you incorporate into your home this year?
Use of Bright Colors
In 2018, homeowners and designers will be thinking more about how to incorporate a pop of color into each room. In kitchens, bold color choices are often reflected in special appliances or fixture accents, such as a deep red sink or bright blue range hood. Carrying your favorite color throughout the house will be important as well. Some of 2018's hottest color trends are tonal, warm reds in the living room as well as statement pinks and yellows. You may have seen "millennial pink" and rosegold colors used quite a bit in fashion and interior design in 2017. While rosegold's popularity may take more of a backseat this year, pink, in general, is still going to be popular.
Geometric and Floral Patterns
Floral wallpapers, furniture, and even sinks will rise in popularity in 2018 along with the use of geometric patterns. Accent walls and ceilings may display more patterns to catch the eye. A less intrusive way to incorporate this trend into your home might be through backsplashes or tile accents. At the very least, you can always incorporate a geometric-patterned throw blanket into your living room.
This tile backsplash in a kitchen remodel done by MOSS in Oakton, VA shows off how eye-catching geometric patterns can be.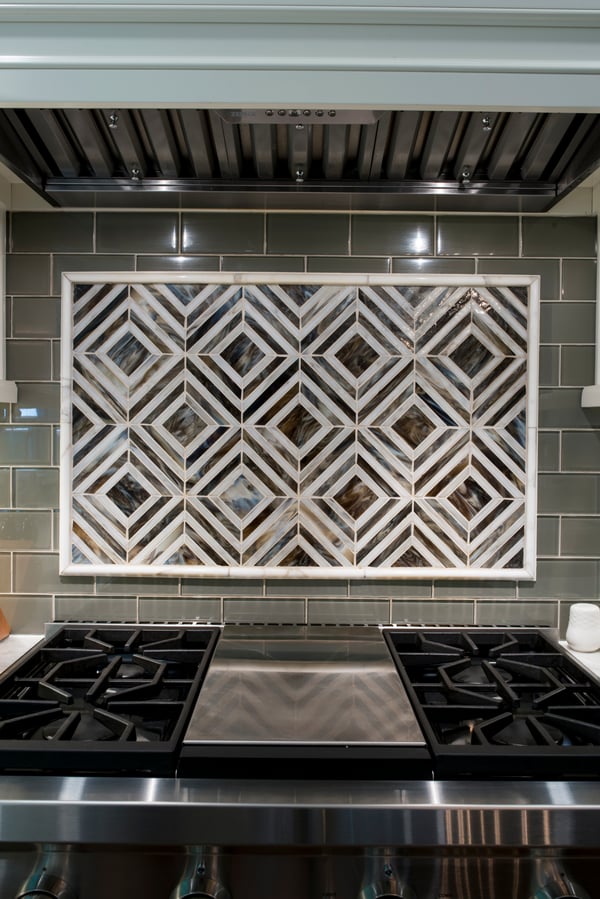 Vintage Lighting
We predict that vintage pendants or sconces with copper or brass finishes will make a comeback this year. But, really anything, from crystal chandeliers to 60s and 70s modern-looking pendants, will give your space an updated 2018 look. Think old is new again.
Rich Textures and Materials
Earthy and industrial materials will be high on redecorators' wish lists this year when it comes to anything from lighting upgrades to appliances and accent walls. Some of 2018's most popular materials will be concrete, brass, stone, copper, and granite in darker hues. In the kitchen, the farmhouse sink will still be popular, but think less of the deep, white or stainless steel variety, and perhaps opt for a copper one. You might also see concrete being used in countertops and on floors. Not only is concrete a cheaper design material, but it also creates a rustic, raw look.
Farmhouse Sinks
Farmhouse, bucket, or trough sinks continue to be very popular. Over the past year, these have mostly been used in kitchens, but in 2018, you'll see a shift to their usage in bathrooms as well. They can also replace common utility sinks in laundry rooms for a much-needed upgrade in that room you use so much.
The beautiful, deep farmhouse sink in this MOSS remodel in Great Falls, VA pulls together the farmhouse chic look for the entire kitchen. For this year's trend, think beyond the kitchen and incorporate farmhouse elements in other rooms as well.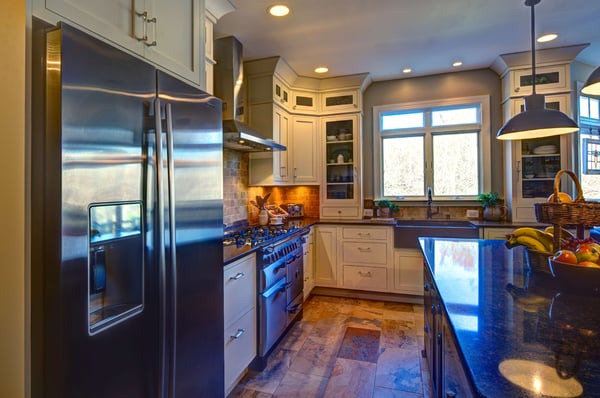 If you're in the market for a home remodel, simply call us at 703.961.7707 or email us at Hello@MossBuildingandDesign.com to kick off your next project!