Transitional home design ideas for your kitchen
Transitional design is one of the most popular design styles. Combining modern and traditional design, transitional interior design is the best of both worlds.
When designing your transitional kitchen, you'll find the clean, sophisticated look of modern design with beautiful decorative accent pieces, typically seen in traditional homes. It's important to maintain a good balance of modern and traditional design so that one does not overpower the other. You also want to ensure that your kitchen is one nice, cohesive space, as opposed to a mismatched clash of design styles.
Here are some things to keep in mind when designing your transitional kitchen:
Streamlined cabinets with sleek hardware

Marble, granite, or limestone countertops

Minimal clutter on countertops

A nice mix of man-made and natural materials

Stainless steel appliances

Hardwood flooring

Neutral colors, such as white and beige

Stacked grid backsplashes
Here are 6 examples of beautiful transitional kitchens:
Kitchen Remodel in Chantilly, Virginia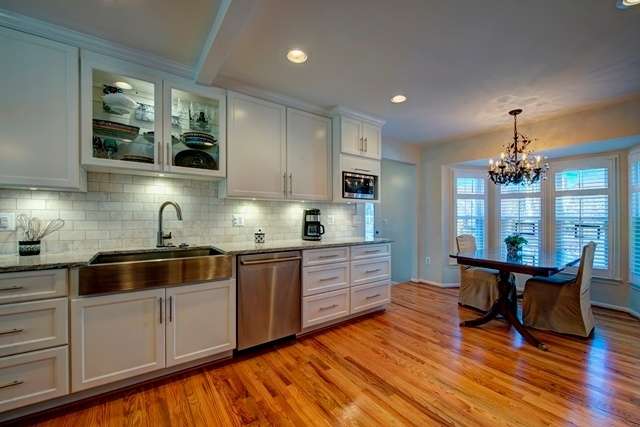 This gorgeous kitchen remodel in Northern Virginia is a great example of a transitional kitchen. The cabinets are streamlined and sleek without being too modern. The homeowner went with white and gray kitchen cabinets, which is a unique feature. The white cabinets and the open floor plan make the space feel clean and airy. You'll also notice the clean, straight lines often found in modern design.
The wooden hutch to the left of the kitchen gives the space a more traditional vibe. The chandelier above the dining room table blends traditional accessories with the other modern design components. Transitional kitchen design oftentimes incorporates stainless steel farmhouse sinks, like the one in this remodel.
This kitchen also does a great job at keeping clutter to a minimum, which is a must for transitional kitchen design. There is ample storage space to hide countertop appliances and manage clutter.
Transitional Kitchen Design in Fairfax, Virginia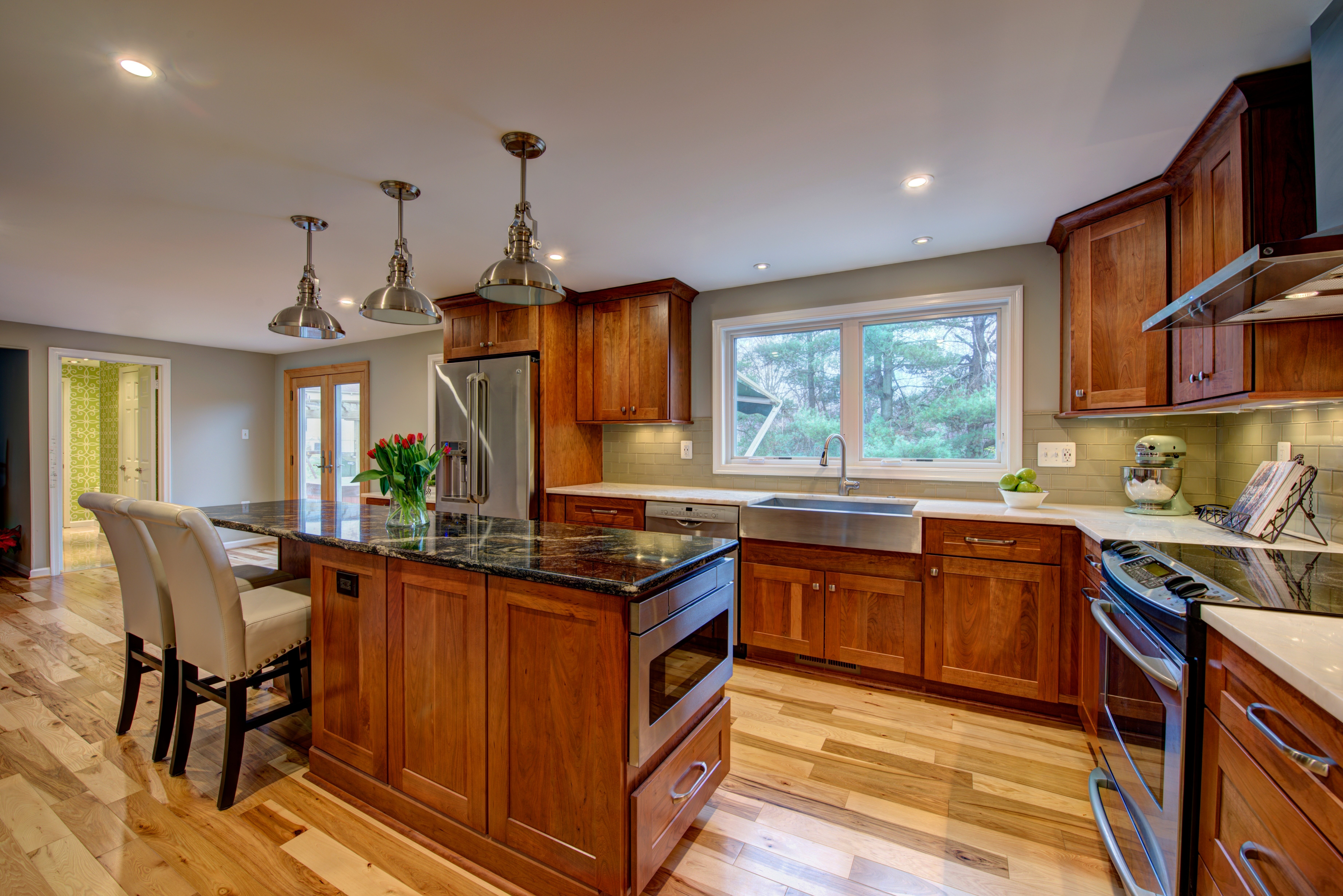 This transitional kitchen takes a different approach to transitional design. The homeowners went with wooden kitchen cabinets throughout the entire space.
Like the kitchen remodel in Chantilly, this transitional kitchen also incorporates stainless steel appliances and hardwood flooring. Additionally, you'll find a stainless steel farmhouse sink was chosen by these homeowners- yet another transitional design element. The backsplash in this transitional kitchen design adds a unique modern element to the space.
Transitional Kitchen Remodel in

Oakton, Virginia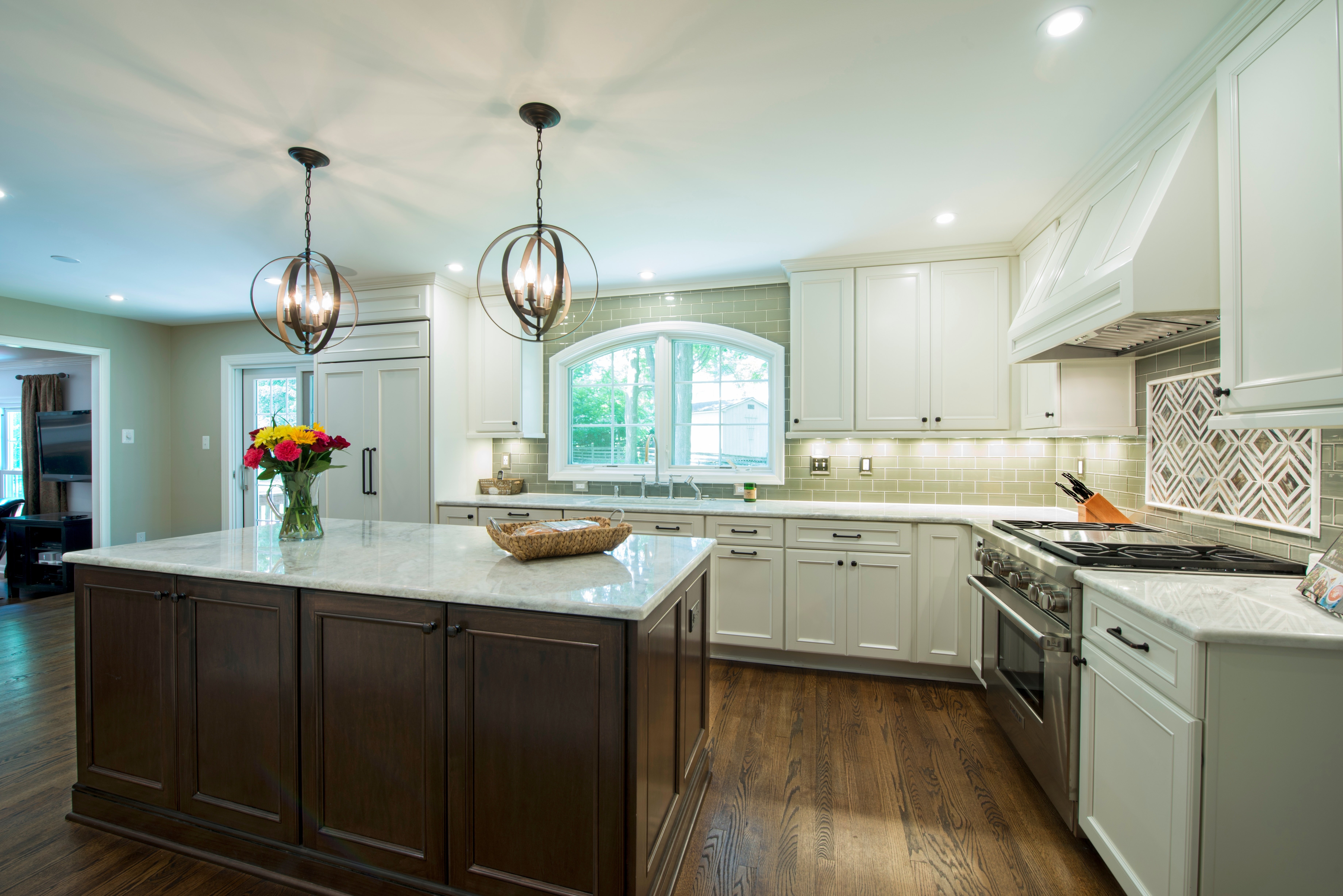 This third example of a transitional kitchen doesn't disappoint. Similar to our first example, this gorgeous kitchen remodel incorporates white and brown kitchen cabinets. Hardwood was the flooring of choice in this transitional kitchen.
The color scheme is neutral and emphasizes the clean, de-cluttered space. The arch in the window above the kitchen sink is a traditional design element. The wooden coffee credenza off to the side of the kitchen also adds a traditional element to the space. This kitchen is beautifully designed to incorporate both modern and traditional design elements.
Kitchen Renovation in Herndon, Virginia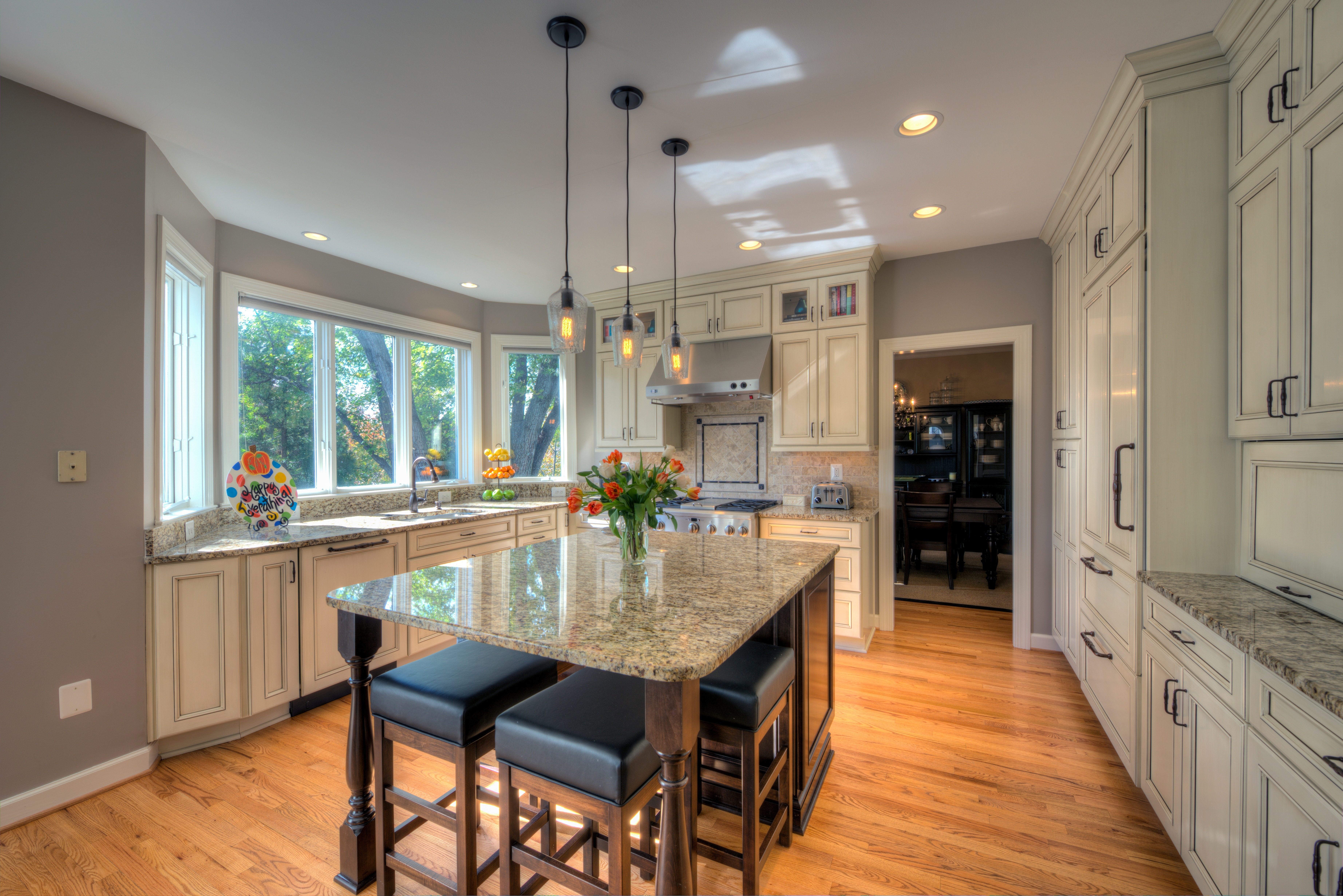 Our fourth example of a transitional kitchen is in Herndon, Virginia. The large windows in this kitchen create a space that is well lit with natural light, a common element of modern design.
The cabinets and panelled refrigerator create clean, straight lines throughout the kitchen. The backsplash is stone which adds a nice traditional element to the space. This kitchen is a great blend of modern and traditional design.
Transitional Interior Design for Your Kitchen
This fabulous transitional kitchen by Drury Design is a beautiful blend of modern and transitional design. The white and gray cabinets provide straight lines. The stacked grid backsplash is another component of transitional design. The brown cabinets are more embellished, adding a traditional design component to the space. This design also includes three very distinct components of traditional design: the window treatment, the arch in the window, and the intricate crown molding at the top of the white cabinets.
Transitional Style Home Decor
This beautifully designed kitchen in New York has just enough modern design components to keep it from being a strictly traditional space. The color pallet is neutral and the windows in the space allow for natural light to flow freely. The windows in the kitchen are straight, as opposed to having an arch, which would have made the space even more traditional.
The crown molding on the top of the cabinets and detail in the woodwork of the kitchen island are all components of traditional design. The space is clutter-free and decor is kept to a minimum to make the space more modern.
All in all, this transitional space incorporates both modern and traditional design very well.
Blend styles to get a perfectly transitional kitchen space that speaks to you, with help from our Transitional Home Style Guide.
Remodelers in Northern Virginia
If you're thinking about redesigning your home, our talented designers know the latest transitional design tips to transform your space. Call us at 703-961-7707, or email us at Hello@MossBuildingandDesign.com to get started.