The living room is a great place for traditional and modern design elements to merge. Read this blog to discover Moss Building & Design's five key essentials for transforming your living space into a transitional living room.
For more information on how to design your ideal traditional or modern living rooms, check out these recent Moss Building & Design blogs, 6 Perfectly Modern Living Room Ideas and How To Create A Traditional Living Room.
Be A Minimalist
The key to a transitional space is choosing your design wisely. With that in mind, keep it simple. One of the prime components of modern design is minimalism, but it's also a very important element of transitional design style.
Don't overload your space with furniture and decor. If you choose more traditional elements like ornamentation, wainscotting, or crown moldings, don't go overboard.
This living space in a basement remodel in Oakton, Virginia, exemplifies a blend of modern and traditional design in a very subdued way. The bar area toward the back features a modern, colorful backsplash with matching bar stools and cool, contemporary recessed lighting. The bar still complements the traditional arches and columns in the rest of the space.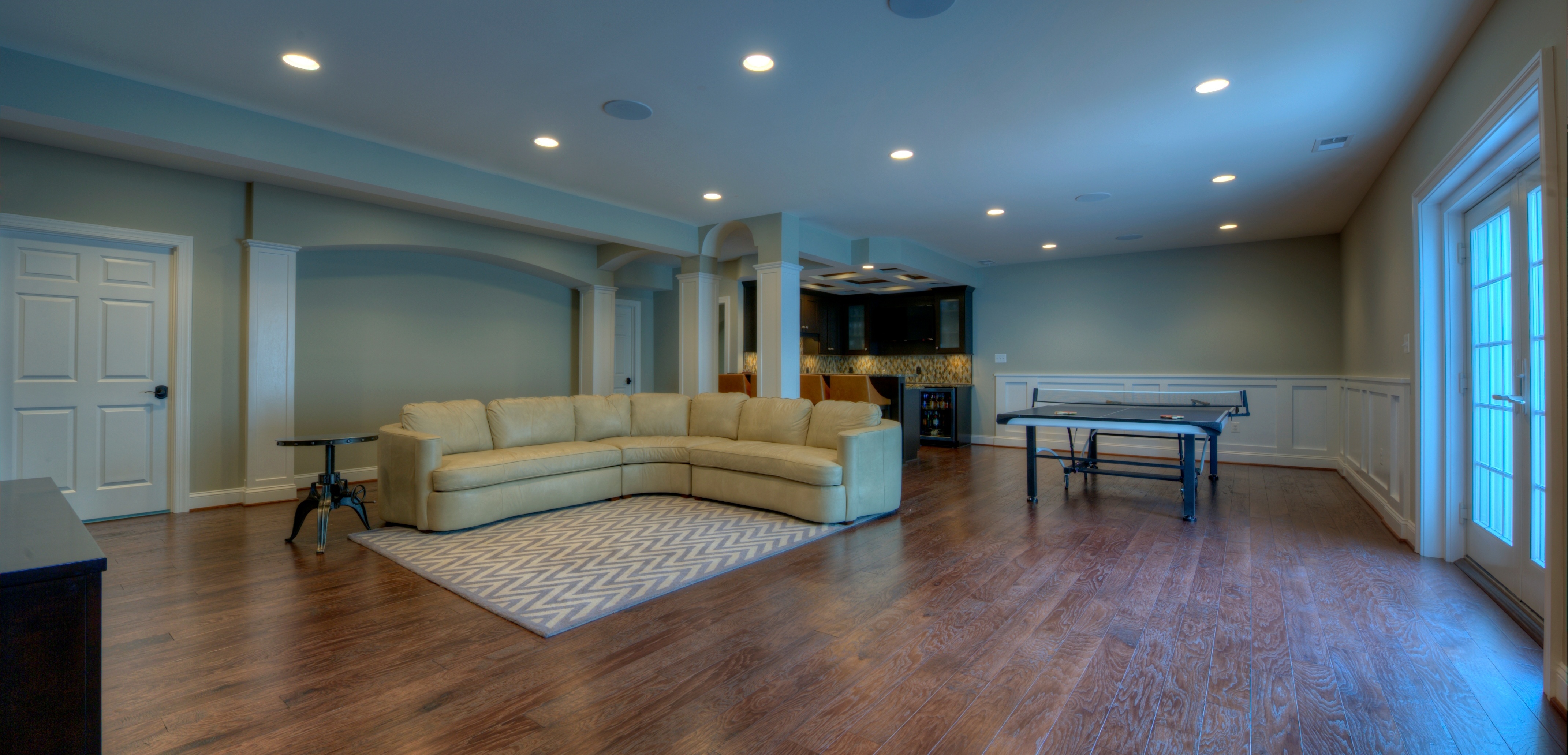 Use Neutral Colors

Neutral colors like cream, taupe, gray, and black, are common in transitional living rooms. Gray, in particular, is a popular color for anything, from living and dining rooms to bedrooms. Explore the many shades of gray available in the Benjamin Moore color palette online here.
Add A Pop Of Color Statement Art
A pop of color, such as a piece of artwork featuring bright blue, red, or orange colors, brings your room together. It also protects you from having a drab space only full of neutral colors. HGTV suggests using the 60-30-10 color rule when it comes to decorating with color.

This means that 60 percent of your room's color is on the walls, 30 percent is in the furniture upholstery, and 10 percent is in a piece of accent furniture, artwork, or floral arrangement.
Choose Furniture Wisely
Transitional home accents have a mix of simple lines and curves. This Reston, Virginia, living room remodel shows how mixing furniture of different shapes works particularly well. All furniture doesn't necessarily need to match.
The Spruce advises that "a living room eclectically styled would have two different end tables anchoring the sofa with two different lamps. A transitional decor room would probably have matching accessories."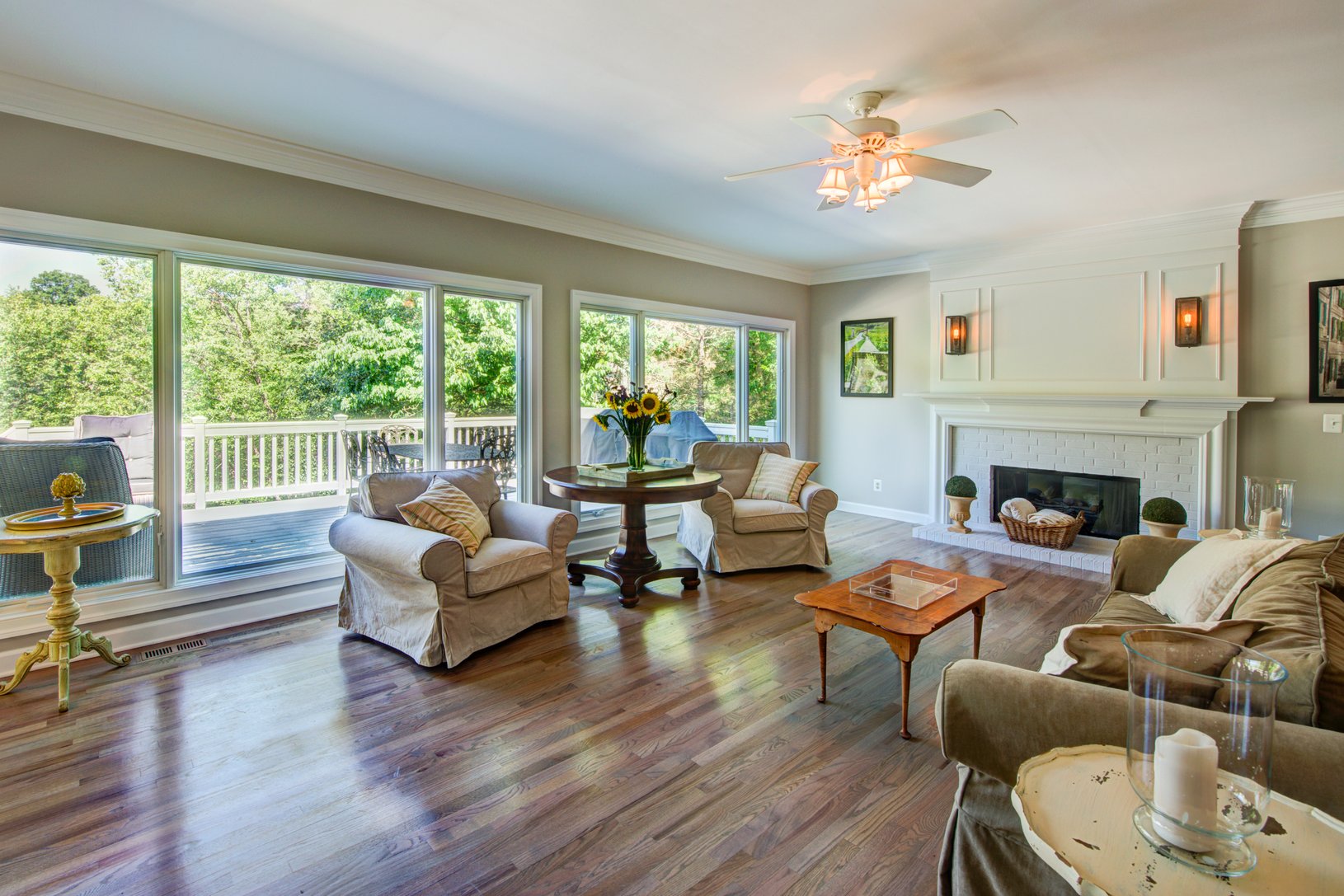 The living room featured above also has large windows, bringing in natural light, which is a feature transitional design borrows from its modern counterpart. It also shows off a slightly embellished (yet clean, white) fireplace that's a quick contemporary update to a traditional style.
Contrast Textures And Tones
Use fabrics, such as suede, chenille, or leather, in transitional living room furniture pieces or do a mix of all three!
Don't be afraid to make a bold flooring choice, either. This living room MOSS remodel in McLean, Virginia, demonstrates a great blend of different textures and tones. See the very modern, leather lounge chair (a similar version of which you can find on Houzz here) paired with hardwood floors and floor-length curtains.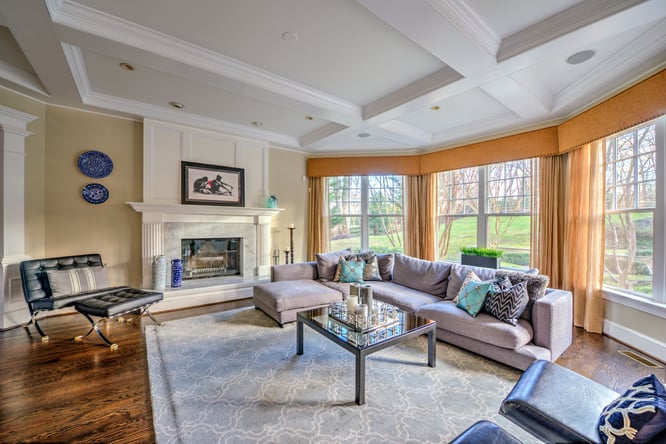 When incorporating traditional elements like trim, crown molding, wainscoting, and floor-length drapes in a transitional living room, balance those elements with modern qualities, such as a neutral color palette, textural variety, and furniture that contains a mix of curves and straight lines. This gives you an ideal living space decorated in the traditional design style!
Design A Transitional Home With Northern Virginia's Best Contractor
If you're thinking about redesigning your home, our talented designers know the latest transitional design tips and transform your space. Call us at 703-961-7707, or email us at Hello@MossBuildingandDesign.com to get started.