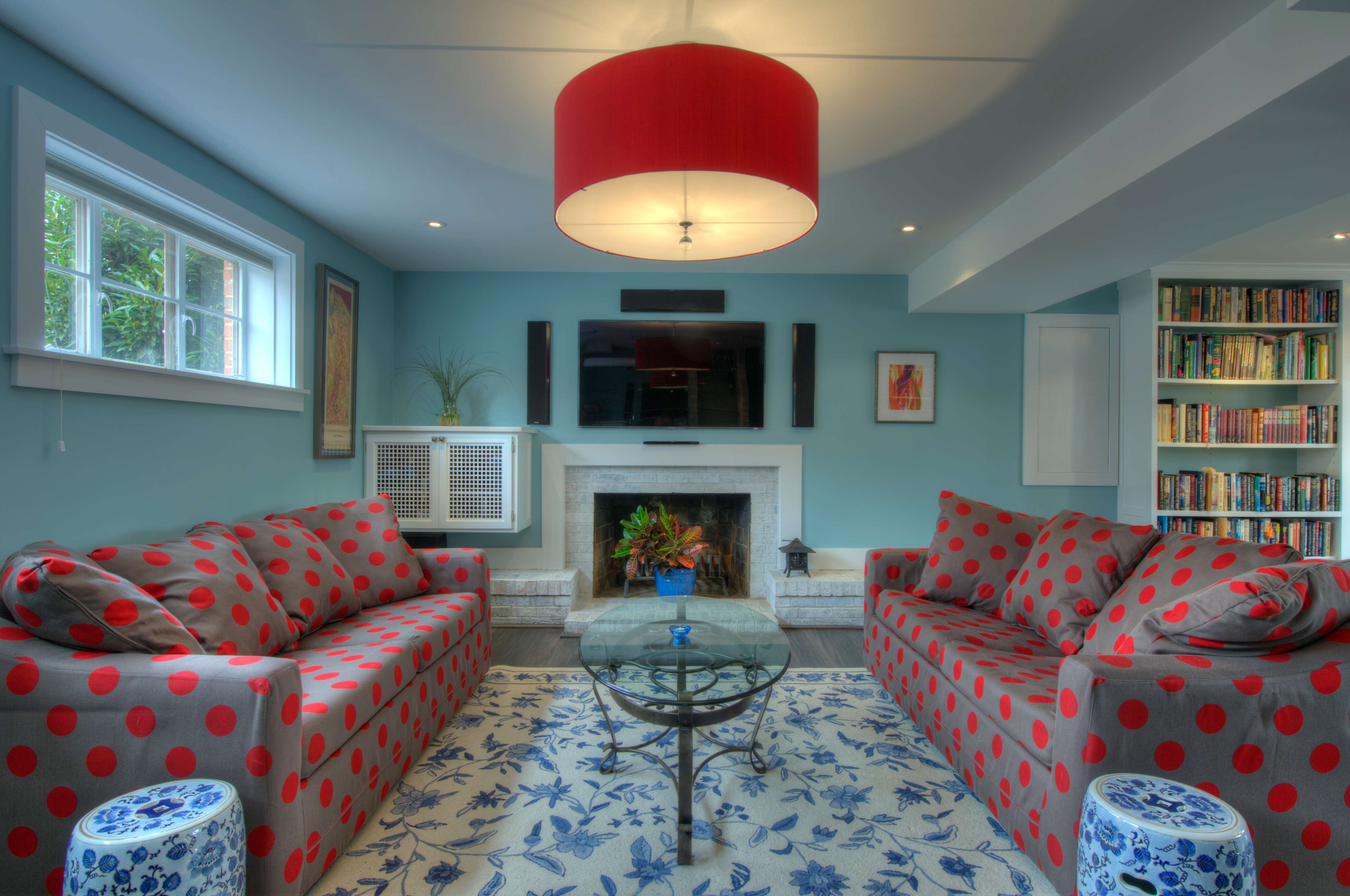 The living room is one of the most versatile rooms of your home. It's a space that can be formal or casual; feature a large, big-screen TV or a fireplace; function as a family lounge where you relax on the couch or gather for games; or all of the above. Whatever the goal is for your living room, it should reflect your own personal style.
If you're looking to make your living room more modern, think: Minimalist, clean, and organized without too much furniture or clutter. An open floor plan, neutral color scheme, and abundance of natural light add to modern design flair.
Here are six quick design upgrades that help turn your living room from drab to fab using your favorite modern interior design themes:
Add furniture with pops of color
Bold accents break up the uniformity of a modern, neutral color palette. Brightly colored accent walls and furniture with creative pops of color make a modern living room. These two images from Moss Building & Design remodels show how red, blue, and orange color choices help your living room really stand out.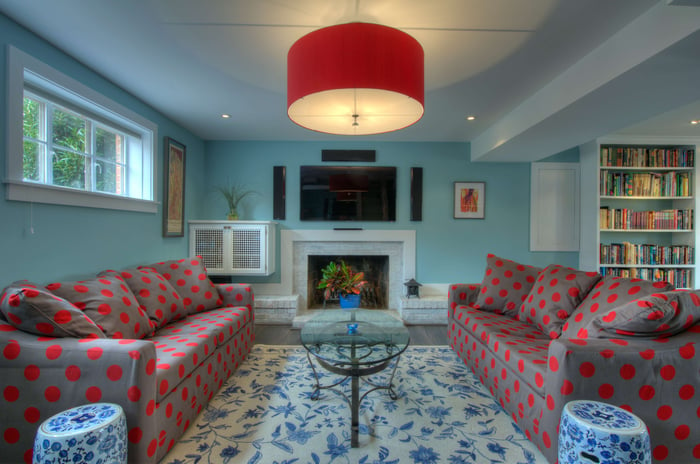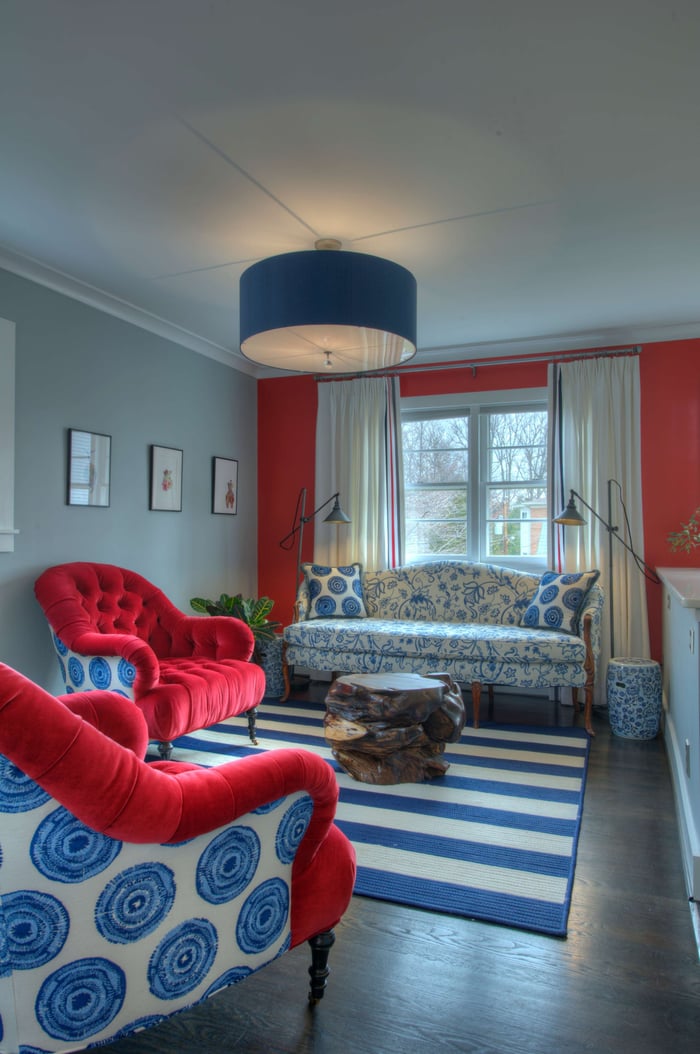 Mixing geometric shapes is also ideal, such as the living room pictured above, where the sharp straight lines of the carpet contrast with the rounded corners of the living room chairs.
Opt for modern lighting fixtures
Dramatic light fixtures brighten up your modern space. This Oakton living room remodel, done by Moss Building & Design, pivots around the disco ball lighting fixture that serves as the centerpiece. Other modern lighting ideas include drum pendants, curved wall sconces, or pendant light chandeliers.

Use a lot of glass
Floor-to-ceiling windows connect you with nature and make your space look larger, an important concept in modern interior design. In fact, there are entire glass homes built in the modern and contemporary style.
If the idea of a glass house shatters your privacy, stick with a glass wall or oversized windows. Living rooms that bring in the outdoors through double-hung, bay, picture, or awning windows enable you to showcase a lot of natural light.
HGTV has a great overview of eight different types of windows to help you find which suits your needs and style.
Swap ornate furniture with simple, clear pieces
See-through furniture can have the same effect as large windows. Instead of erring toward the large, stately, and clunky traditional furniture, modern furniture emphasizes the function of the piece. It lets you enjoy the room or space instead the furniture itself.
It can also help make a smaller room appear bigger by streamlining your view. There is actually an entire market of clear furniture, such as Overstock nesting end tables, Decoist acrylic trunks, Bellacor coffee tables, and Amazon chairs.
Consider an accent fireplace
If bright color accents aren't your style, employ a different accent style element, such as an artfully crafted fireplace. This showcases modern design in a less colorful way, but no less bold. In this Arlington remodel, a beautiful built-in fireplace is surrounded by wood shelves for books.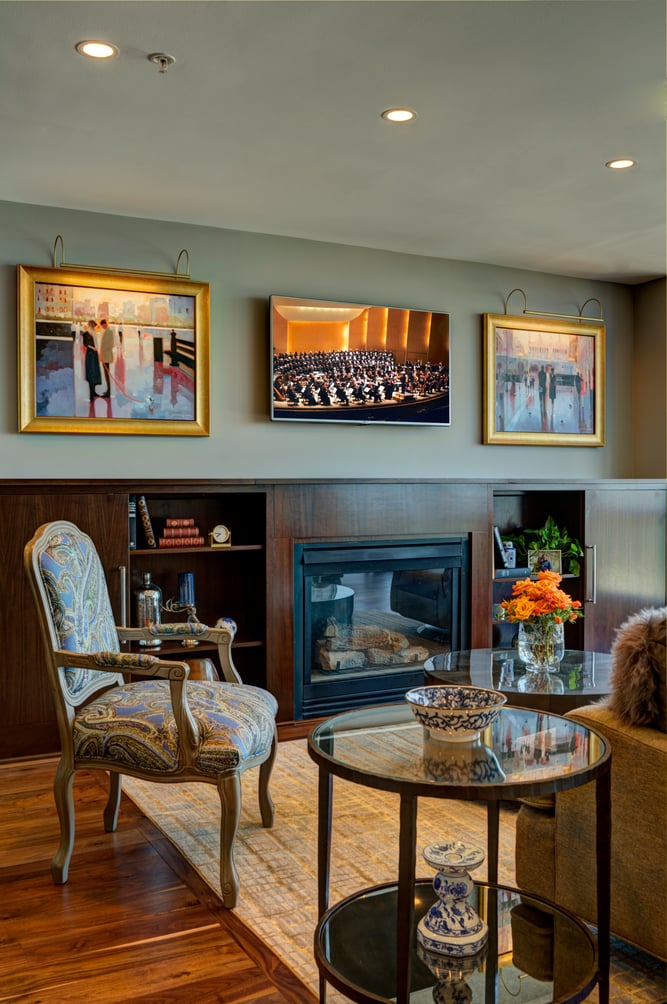 The Spruce, in its article about modern living room design ideas, features a modern living room focal wall with a bold fireplace accent. Instead of a typical fireplace and mantle setup, this wall is completely built of metal panels that give it a more mechanical, modern look.
Go with neutral wall colors
Aside from accents, stick with neutral colors like cream, gray, brown, and white. Gray walls with black, leather furniture bring out a particularly modern, masculine look.
Design A Modern Home With Northern Virginia's Best Contractor
If you're thinking about redesigning your home, our talented designers can help transform your space. Call us at 703-961-7707, or email us at Hello@MossBuildingandDesign.com to get started.