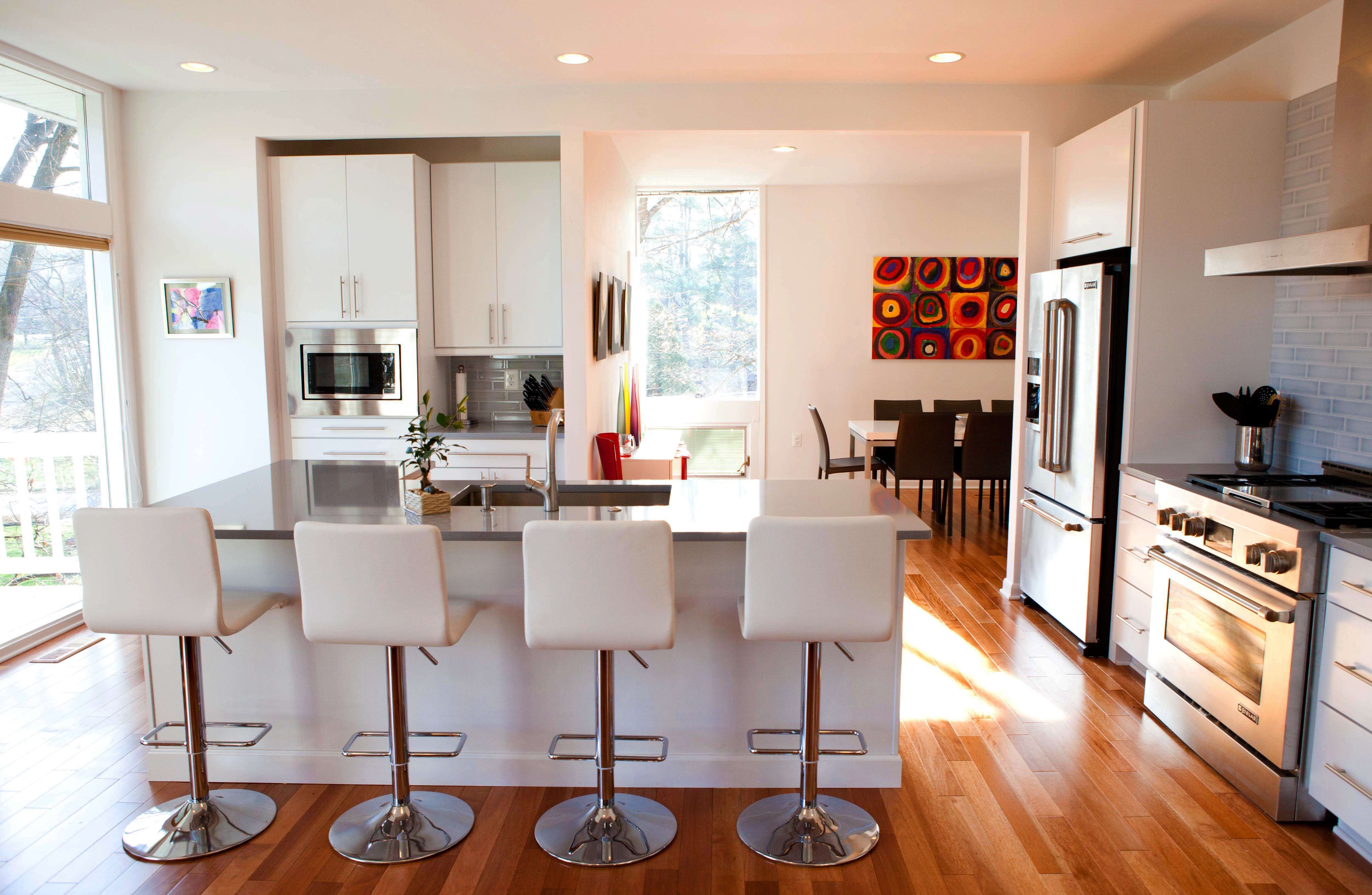 Clean. Minimalist. Abstract. Simple.
These four words are often used to describe modern design and the whole modernist movement that inspired the design style. If you're a curious design history junkie, read on to learn more about how the modern style adapted over the past few decades.
How Modern Design Began
Modernism is a philosophical movement of the late 19th and early 20th centuries, categorized by abstract thinking that deviated from realism, romanticism, and renaissance beliefs in previous eras. Modernism in art and architecture, in particular, was popular during the 1940s to 1980s.
During this era, homes designed in the modern style consisted of smooth, straight lines; open floor plans; large glass windows; geometrics shapes and patterns; man-made materials; and natural elements that showed an integration with the outdoors.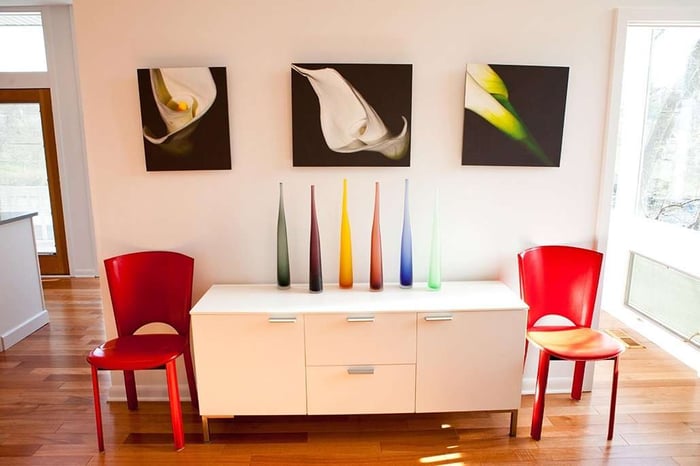 As described by AnOtherMagazine, modernism "was rooted in notions of functionality, elegance, and simplicity as championed by the likes of the Bauhaus and Le Corbusier, whose dictum [was] 'a house is a machine for living.'"
This idea of the machine house or "form follows function" are very important concepts to modern home design, as they emphasize the space's practical and functional nature rather than its aesthetic or ornate elements.
In that case, the purpose of the building, home, or room should dictate the design. This mechanical ideal is also reflected in modern interior design styles through the use of materials like metals, glass, vinyl, and plywood.
When someone discusses modern style, you'll also hear the sub-genres of modernism, used to describe the movements inspiring furniture, art, and architectural styles of the time, such as the following:
Futurism

Bauhaus

Neo-Dada

Cubism

Minimalism

Abstract Impressionism
Mid-Century Modern Home Design
When speaking specifically about modern home design and decor, you'll often hear the aesthetic referred to as a "mid-century modern design style". This phrase describes interior design, furniture, graphic design, architecture, and urban development from 1933 to 1965.
In this mid-century modern kitchen in McLean, Virginia, for example, you'll see modern style reflected in straight lines and sharp angles of the cabinets and bar stools. Other characteristics of the mid-century modern style include the following:
Little to no decorative elements or embellishments

Furniture in geometric patterns

Bold accent colors with art or counterpiece piece

Flat panel cabinets

Floor-to-ceiling windows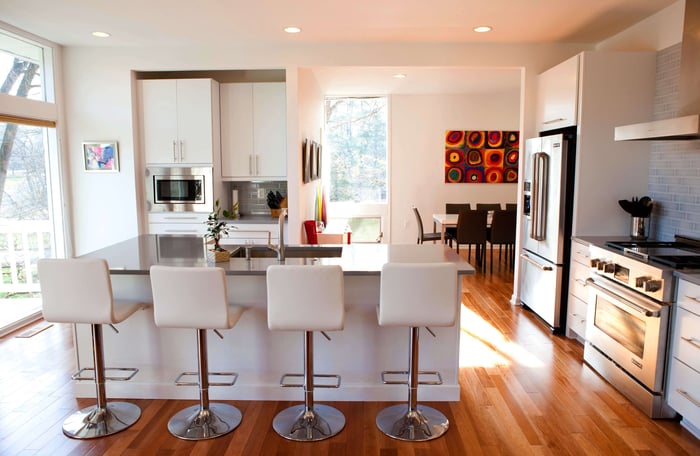 Author Cara Greenberg coined the phrase "mid-century modern" in her 1984 book Midcentury Modern: Furniture of the 1950s. However, the birth of the architectural movement really took off after the second World War.
"The birth of midcentury modern was after the war," said Sian Winship, president of the Southern California Chapter of the Society of Architectural Historians, according to an article on HGTV.com.
"The houses had open floor plans and giant sliding-glass doors, which encouraged people to go outside and be healthy. In a traditional home, the window height is 4 to 5 feet, and you can't see out as a child. With these walls of glass, children became engaged and open-minded because the environment stimulated the senses in a different way."
Modern interior design hit a resurgence at the turn of the 21st century. In 1999, the Library of Congress opened an exhibit on Charles and Ray Eames, two of the foremost modernist designers.
This, and other exhibits, was followed by the debut of the television phenomenon Mad Men in 2007. The show inspired a new generation to find appeal in modernist styles at work and home. In many workplaces, you're likely to see Mad Men icons like the Eames Lounge Chair and Knoll Barcelona Chair.
Modern Home Design In Virginia Homes
Modern home designs flourish in Northern Virginia. This remodel in Oakton, Virginia, for example, shows a lovely modern designed living room. The floating, angled staircase with metal railings and spherical light fixture draw the eye, while the large glass windows allow plenty of natural light and provide a view to the beautiful backyard.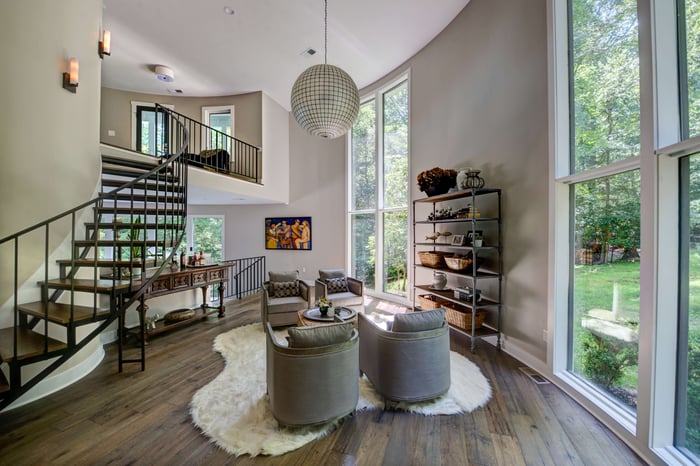 Many of our customers look to us to help bring to life their bold modern design vision. Let us know if you'd like to speak to a designer to make your dream a reality.
The Best Remodelers In Northern Virginia
If you're in the market for home or basement remodeling or you'd like to talk to a professional about a modern home interior, call us at 703.961.7707 or email us at Hello@MossBuildingandDesign.com.