MOSS 360: Augmented And Virtual Reality For Home Remodeling
MOSS 360 Is A Game Changer
At MOSS we offer a superior design experience that will help you accomplish your remodeling goals. We have several components to this experience that will help you make your dream remodel a reality. The components include Architects, Customer Success Managers, In-House Project Designers, and MOSS 360, to mention a few.

MOSS 360
MOSS 360 is a best in class augmented and virtual reality design capability.
Jumping into the virtual reality experience, this capability will help you envision your new remodel before construction begins and with a realistic experience like none other. MOSS 360 is changing the game as it allows you to feel your remodel as opposed to seeing drawings on paper. You will experience your remodel before construction even begins.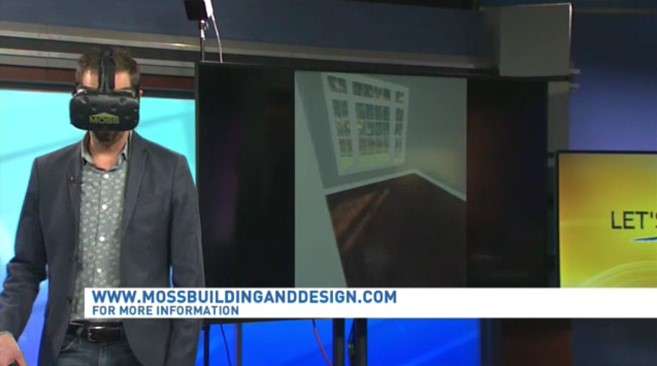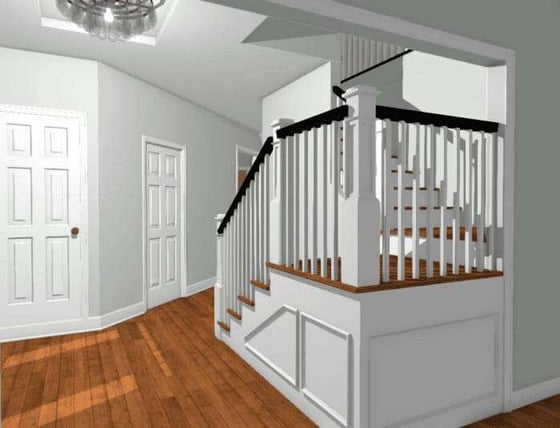 While this feature may seem self-explanatory, there is a big difference between visualizing a space and actually walking through it. If you have concerns about how big a hallway is, or the door-swing to a small bathroom– or maybe you are concerned about whether your kitchen will hold your whole family during the holidays– MOSS 360 allows you to see for yourself whether or not those space issues are real or not. Feeling whether or not a room is too small (or too big) is no longer something you determine after the remodel has already finished. With MOSS 360, you can feel how your space flows before construction has even begun– an invaluable feature for homeowners who are deep in the remodeling and design process.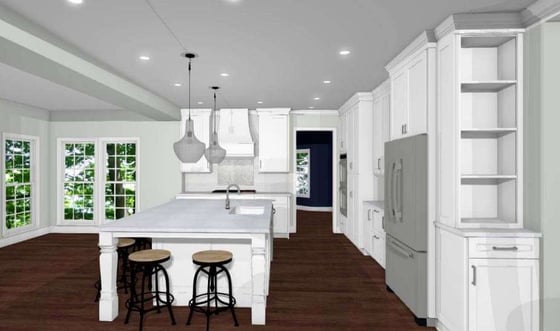 One of the capabilities that may surprise homeowners using the technology is how customizable MOSS 360 can be. Instead of just visual representations of selections– for instance a standard kitchen sink faucet or kitchen countertop– homeowners can choose exactly which brand selection they would like. If you want to see how a certain kitchen sink will look (say a Kohler Apron-front sink) MOSS 360 has the ability to scan in that exact selection and place it into your space.
Likewise, if you have an exact slab of granite that you want to see how the light reflects off of it, our experts can place that exact slab of granite into the MOSS 360. The customization available to homeowners with MOSS 360 will allow them to not only see how each individual selection looks, but how cohesive the selections look together by walking through and seeing them in a real-life setting.
Home Design & Remodeling Photos
Get inspired by our design portfolio
"I hired Moss Building and Design for a second story bathroom addition and bedroom expansion. The designers Emily and Liz drew out the entire plan for us and made sure we were happy with the design. The project started on time, building materials and long leads were purchased ahead of time and the day by day schedule was posted on the customer portal. Guess what, they finished ahead of schedule, achieved professional results and were quick to address any issues we had. Wouldn't have been possible without the expertise of our on-site manager Chad Jones, who watched every detail and checked on the house daily. The entire team helped us manage our budget well and were engaged with us throughout the whole process. I would highly recommend Moss and wont hesitate to hire them again."
—Homeowner in Fairfax, VA
"I used Moss Building & Design for a complete kitchen and bath (3 total) remodel. Plus, they replaced my builder grade carpet and vinyl with a luxury laminate. I am extremely happy with the quality of the work and overall finishes. From the bespoke drop zone and benches to the out of the box flooring and cabinets - the caring attention to my home was obvious throughout the project. From my first meeting to the last - my team (Nick, Matt, William, David, Ryan and Bo) did an exemplary job. I highly recommend using Moss for your home projects."
—Homeowner in Ashburn, VA
"We engaged Moss Building & Design to replace our staircase with some a little more modern. We couldn't have been happier with the process and the end result is fabulous! The design and construction was a little challenging but David & his team worked tirelessly to ensure that the end result was perfect. We can't wait to start our next project with Moss."
—Homeowner in McLean, VA