MOSS 360: Augmented And Virtual Reality For Home Remodeling
MOSS 360 Is A Game Changer
At MOSS we offer a superior design experience that will help you accomplish your remodeling goals. We have several components to this experience that will help you make your dream remodel a reality. The components include Architects, Customer Success Managers, In-House Project Designers, and MOSS 360, to mention a few.

MOSS 360
MOSS 360 is a best in class augmented and virtual reality design capability.
Jumping into the virtual reality experience, this capability will help you envision your new remodel before construction begins and with a realistic experience like none other. MOSS 360 is changing the game as it allows you to feel your remodel as opposed to seeing drawings on paper. You will experience your remodel before construction even begins.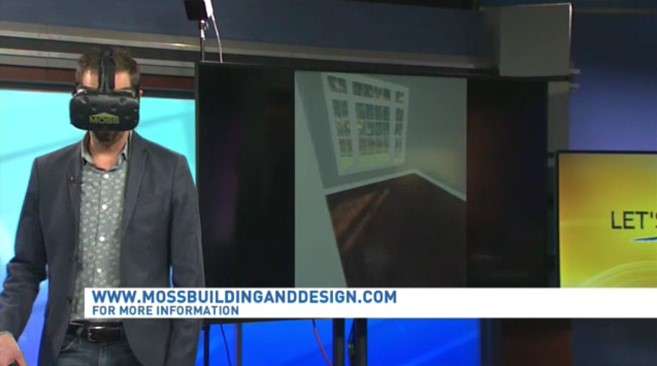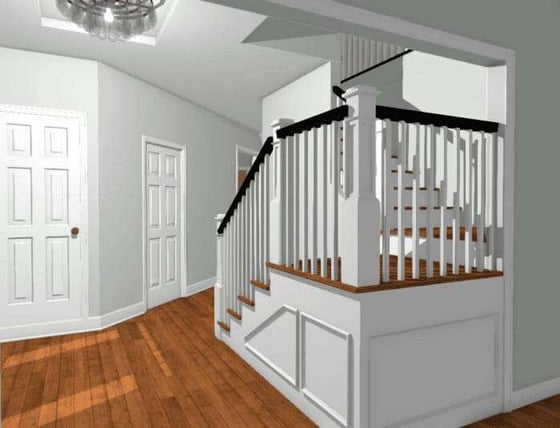 While this feature may seem self-explanatory, there is a big difference between visualizing a space and actually walking through it. If you have concerns about how big a hallway is, or the door-swing to a small bathroom– or maybe you are concerned about whether your kitchen will hold your whole family during the holidays– MOSS 360 allows you to see for yourself whether or not those space issues are real or not. Feeling whether or not a room is too small (or too big) is no longer something you determine after the remodel has already finished. With MOSS 360, you can feel how your space flows before construction has even begun– an invaluable feature for homeowners who are deep in the remodeling and design process.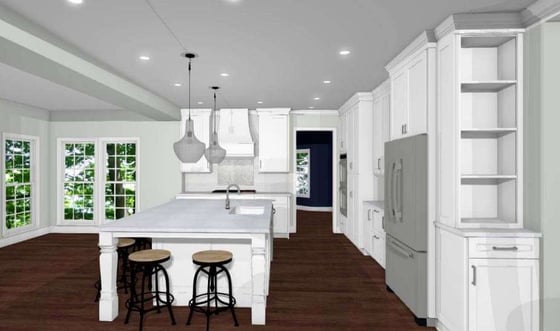 One of the capabilities that may surprise homeowners using the technology is how customizable MOSS 360 can be. Instead of just visual representations of selections– for instance a standard kitchen sink faucet or kitchen countertop– homeowners can choose exactly which brand selection they would like. If you want to see how a certain kitchen sink will look (say a Kohler Apron-front sink) MOSS 360 has the ability to scan in that exact selection and place it into your space.
Likewise, if you have an exact slab of granite that you want to see how the light reflects off of it, our experts can place that exact slab of granite into the MOSS 360. The customization available to homeowners with MOSS 360 will allow them to not only see how each individual selection looks, but how cohesive the selections look together by walking through and seeing them in a real-life setting.
Home Design & Remodeling Photos
Get inspired by our design portfolio
What Our Customers Say
"Moss was fantastic! We hired them to finish a portion of our basement and enclose an exterior staircase leading into our basement. They stayed within our budget and were incredibly helpful during the design process. During construction, every Moss employee we encountered was professional. They kept all workspaces clean and did fabulous work. We would not hesitate to hire again!"
—Homeowner in Alexandria, VA
"My wife and I were very happy with our experience with Moss. From start to finish, they were extremely professional, knowledgeable and timely. All of the people we worked with exceeded our expectations. Our design consultant (Kristin) took the time to learn about what kind of building products we tend to like (we lean towards Euro-modern) and found things within our budget that we loved and worked for what we were trying to achieve. Also, our Project Manager (Bob Keene) did a fabulous job; he was always prompt, did exactly what he said he would do, made sure the workman did what they were supposed to do, and was just so easy to work with. He even suggested things that worked better that sometimes saved us money. In short, our experience with Moss was excellent and I would recommend them without hesitation. We would definitely use them again."
—Homeowner in Oakton, VA
"MOSS is amazing. This is the second project I've done with them and couldn't be more pleased. The quality of work was outstanding and their team's communication was great. Their pricing is fair with no hidden costs. I plan to use MOSS for all my future projects. I couldn't recommend them more!"
—Homeowner in Fairfax, VA
"Recommend the Moss guys highly. We used Moss for a major expansion/renovation of our second floor living area last year. This project was smaller. I called our construction manager Greg Maratto when we found mold in a basement closet. Thought it would be too small a project for Moss, but Greg sent someone right away to assess the problem. They found that it was related to deterioration at the top of the chimney that was causing leaking down into the basement. Moss fixed the chimney and rebuilt the closet at a reasonable price. Greg and his guys are always easy to deal with, flexible with timing to fit into our schedules, and reliable. They show up when they promise and are professional and efficient."
—Homeowner in Vienna, VA