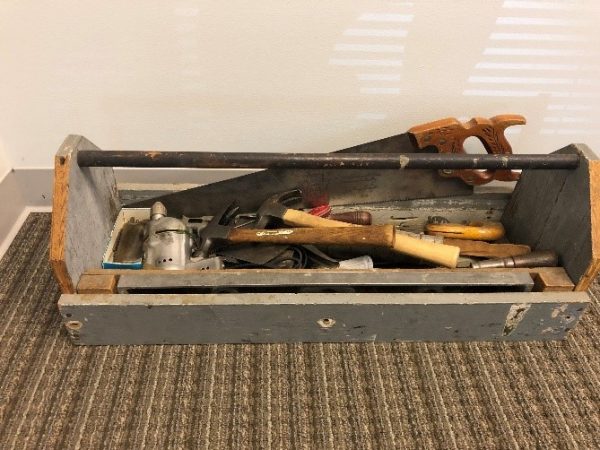 The execution of that simple plan has resulted in remarkable growth and performance. The growth required augmenting the management team along the way. Justin Schopp (Pete's son-in-law) joined in 2003 as MOSS entered the Kitchen and Bath arenas. Justin jumped in with Jason and Pete in a broad management capacity and continues to be a critical member of the MOSS management team. By 2014 MOSS had grown into one of the leading remodelers in Northern Virginia. To properly manage the MOSS high standards at that volume and continue delivering quality projects and happy customers, two additional executives came onboard.
Paul DesRoches brought his operational experience onboard as COO to systematize the operational procedures and maintain focus on the full customer experience. Dave Greksouk joined as Executive Vice President shortly after Paul to solidify our unique consultative sales approach. Both Paul and Dave continue today to be critical members of the MOSS management team.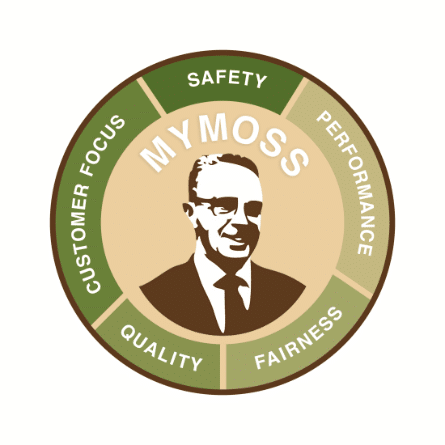 Though our repeat and referral rate is the ultimate validation of our hard work, MOSS has won many awards and distinctions that also serve as validation. Most recent and significant is the ISO 9001 certification (only remodeler in the country to achieve this tough quality standard), OSHAS 18001, Washington Post's "Best places to Work" awards, several Contractor of the Year awards, and countless awards from publications and consumer websites. No doubt MOSS would be most proud of the "Best Places to Work" award.
This is why we are proud to be MOSS. And this is why after over 19 years in business we have a team of incredible people and a healthy and thriving business that has successfully serviced over 10,000 customers and is the leading home improvement contractor in Northern Virginia.
MOSS lived a simple, honest, and helpful life and there was a lot of beauty and joy in that simplicity. That is why his retirement picture sits in the middle of a graphic that houses our guiding principles. Though he is not with us, there is no doubt he would be proud to see his name connected with this group of people all across D.C., Maryland, & Northern Virginia. And we all work hard to earn his name every day.
What Our Customers Say
"Moss was fantastic! We hired them to finish a portion of our basement and enclose an exterior staircase leading into our basement. They stayed within our budget and were incredibly helpful during the design process. During construction, every Moss employee we encountered was professional. They kept all workspaces clean and did fabulous work. We would not hesitate to hire again!"
—Homeowner in Alexandria, VA
"My wife and I were very happy with our experience with Moss. From start to finish, they were extremely professional, knowledgeable and timely. All of the people we worked with exceeded our expectations. Our design consultant (Kristin) took the time to learn about what kind of building products we tend to like (we lean towards Euro-modern) and found things within our budget that we loved and worked for what we were trying to achieve. Also, our Project Manager (Bob Keene) did a fabulous job; he was always prompt, did exactly what he said he would do, made sure the workman did what they were supposed to do, and was just so easy to work with. He even suggested things that worked better that sometimes saved us money. In short, our experience with Moss was excellent and I would recommend them without hesitation. We would definitely use them again."
—Homeowner in Oakton, VA
"MOSS is amazing. This is the second project I've done with them and couldn't be more pleased. The quality of work was outstanding and their team's communication was great. Their pricing is fair with no hidden costs. I plan to use MOSS for all my future projects. I couldn't recommend them more!"
—Homeowner in Fairfax, VA
"Recommend the Moss guys highly. We used Moss for a major expansion/renovation of our second floor living area last year. This project was smaller. I called our construction manager Greg Maratto when we found mold in a basement closet. Thought it would be too small a project for Moss, but Greg sent someone right away to assess the problem. They found that it was related to deterioration at the top of the chimney that was causing leaking down into the basement. Moss fixed the chimney and rebuilt the closet at a reasonable price. Greg and his guys are always easy to deal with, flexible with timing to fit into our schedules, and reliable. They show up when they promise and are professional and efficient."
—Homeowner in Vienna, VA