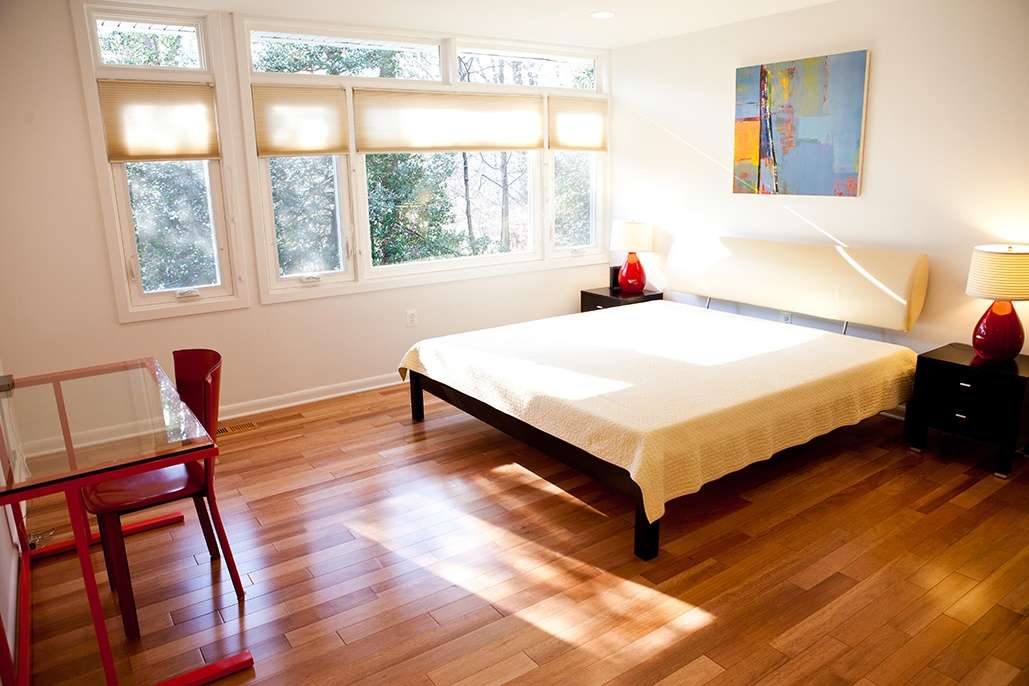 Modern design appeals to many people. It's known for its straight, clean lines and simple decor. There are many modern design elements that you can use to achieve a modern design style in your bedroom. As your expert Northern Virginia remodeler, we've designed many modern homes and can share tips to help you create a modern home design.
Less Is More
When it comes to designing a modern bedroom, it's important to remember that less is more. Modern interior design is very simple and minimalistic.
The furniture you pick should be very sleek and simple. Detailed woodwork and decorative details shouldn't be used in modern interior design. When choosing a bed, consider a platform bed like this one from Houzz. It's simple yet stylish and will certainly help achieve a modern home design.
Incorporate Wood Into
Design Accents
Another modern design element is incorporating wood into the design. This platform bed from Houzz is another great option. It's functional and adds a touch of wood to the space.
If done correctly, a shiplap wall is another great option to achieve a modern look in your bedroom. Take it a step further and paint the shiplap white or another neutral color to make the room even more modern.
Let There Be (Natural) Light
The best light is natural light. Oftentimes, you'll see modern bedrooms with tall windows and no curtains or window treatments. Skylights are another great addition. Modern home design has a clean feeling, and letting natural light flow freely through the room creates that clean, open feeling in your bedroom.
Neutral With A Pop Of Color
Consider a neutral color for the walls, bedding, and floor. Consider a bold pop of color that's consistent throughout the space, because using the same bold color in accent pillows and other decorative pieces ties everything together and maintains consistency.
In this remodel in McLean, notice the neutral color used on the bedding and walls, as well as the bold red that's used in the lamps and chairs. Again, being cautious about avoiding too much color, this room successfully adds that pop and maintains a very clean, modern look.
Creating Straight, Clean Lines
You've heard that modern interior design incorporates straight, clean lines, but what exactly does that mean? Honestly, exactly what it says.
From the use of decorative accents to the furniture, each element provides an opportunity to create straight, clean lines. House Tipster has a gallery of modern bedrooms, where you should notice that each one incorporates straight lines through the bedding, flooring, or the dressers.
Simple Decorative Elements
When choosing decorations, stick to the 'less is more' concept. There's no need to get too crazy when trying to achieve a modern look.
Take the painting that's hung in the remodel in McLean. It's very simple and adds the right amount of color to tie the room together. When achieving a modern look, it's all about the room as a whole as opposed to independent pieces.
White, fresh flowers are often used to decorate a modern room, as well as accent pillows. HGTV has a great gallery of modern interior design bedrooms for more inspiration.
Minimal Clutter
Last but certainly not least, you can't have a modern bedroom with clutter. Out with the old and in with the clean space!
Nightstands should be free of clutter with a simple table lamp or small vase with flowers. Your dresser should be cleared and have one or two decoratives pieces, if any at all.
Lastly, don't overdo it with wall decor. One simple painting should suffice in a modern bedroom and tie in the accent color you chose.
Remodeling With Northern Virginia's Best Contractor
Whether you're in the market for a traditional or modern home or you're unsure of your specific design style, we can help! Email us at Hello@MossBuildingandDesign.com, or call us at 703-961-7707 to talk about your project. We can't wait to hear from you.