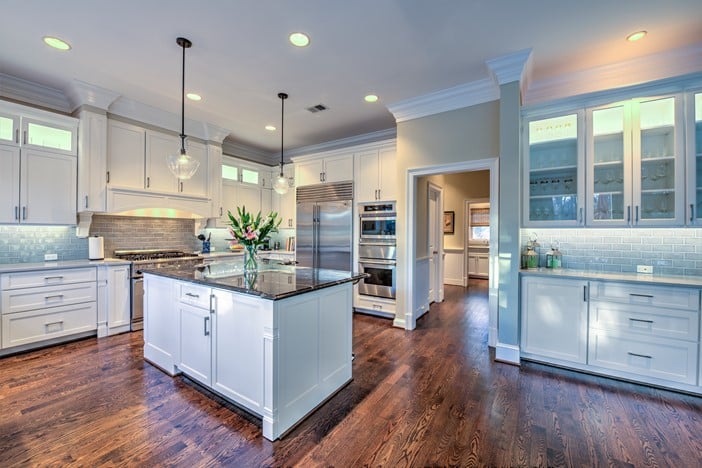 Modern Interior Design With Northern Virginia's Best Remodeler
If you've been considering a redesign for your home, the New Year is the perfect time to start. It's a new, fresh start with the modern interior design you've always wanted.
What's Modern Design? How Does It Compare To Other Home Designs?
Modern and contemporary design are often used interchangeably. However, the two actually have distinct differences. Simply put, modern interior design refers to a period of time. It's a design style that was created between the 1920s and 1950s, according to Relish Interiors, a design blog out of British Columbia. It doesn't change, as its definition is cemented in history.
Also, it actually doesn't encompass a futuristic design as the word implies. Modern broke away from earlier decorating style, which was ornate and handcrafted like traditional design. Modern interior design embraced simplicity and straight lines, according to The Spruce.
Contemporary design, on the other hand, is ever-changing. This style incorporates what's trendy in present day. That's why people use the word 'modern' to describe what's actually contemporary.
Color Palette
When designing a modern room in your home, a specific color scheme should be followed. Neutral tones work best, so consider cream, gray, brown, and white when choosing paint. When choosing an entire color palette, think simple.
Behr has great paint palettes to achieve modern interior design. For example, the color company recommends creating a stylish statement with a neutral palette by adding a bold accent wall in a cool color, such as deep eggplant.
Behr explains that a bold accent wall adds a focal point of color, breaking up the uniformity of a neutral palette. The accent color wall also adds depth and character and allows you to coordinate complementing accessories to create an elegant and unified whole.
Simplicity
Modern is all about simplicity, minimal use of space, and clean lines.
The opposite of traditional design, modern homes keep decorative accessories to a minimum. Kitchens, living rooms, and master suites avoid clutter with decor.
This kitchen remodel in McLean, Virginia, is the perfect example of being uncluttered. The countertops contain only the basic items that are necessary to make a kitchen functional. It's open, allowing everyone to see the clean, straight lines in the modern design.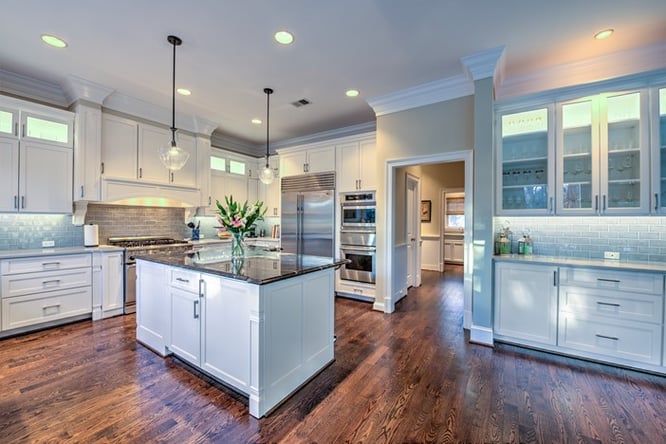 The minimal use of space creates an open and airy atmosphere that this design type is known for. Think about a free-standing tub or pedestal sink for the bathroom, because both offer functionality but allow a free flow of space to make the room feel open.
Home Decor
This Dado Rectangular Cocktail Table from Pure Modern is a great example of modern design furniture. It has straight, clean lines that are hallmark to modern decor, and the cut-outs literally open the space around it.
As exemplified by the cocktail table, modern style home decor is very clean and simple. It incorporates straight lines and geometric patterns like this Albers Inspired Canvas Art or Stacked Canvas Art from Inmod. They're neutral in color and incorporate straight lines for a very simple piece of wall decor.
This World Rug Gallery Alpine Modern Geometric Rug from Kohl's also incorporates color and geometric shapes to make your living space more modern.
According to The Spruce, modern furniture has a long, low shape. Rather than boxy furniture that sits on the floor, modern style home decor raises furniture up on its legs and is typically made from metal. For example, Modern Classics has an Exhibition Chair inspired by Mies van der Rohe and Exhibition Loveseat.
Design A Modern Home With Northern Virginia's Best Contractor
If you're thinking about redesigning your home, our team of talented designers can help you transform your space. Call us at 703.961.7707, or email us at Hello@MossBuildingandDesign.com to get started on your home project.