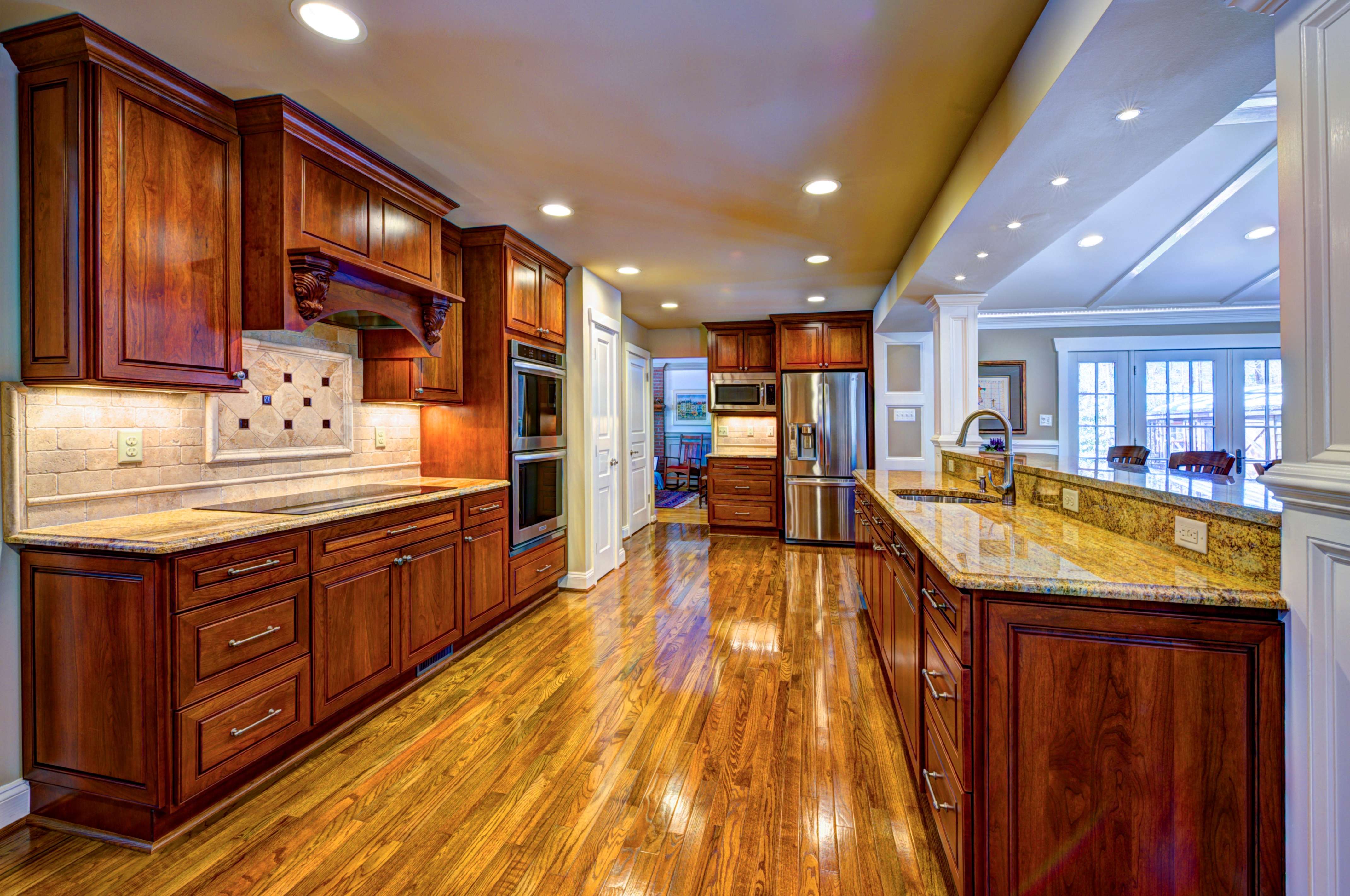 Kitchens are often called the heart of the home. Because your family spends most of their time here, you want to ensure that the room reflects your style and is a place that makes you feel comfortable. If you like classic and time-honored styles, a traditional kitchen is for you.
Kitchens built in traditional interior design style have a well-proportioned and elegant look, often characterized by decorative elements like ornate backsplashes, arches, stacked moldings, raised panels and valances on cabinets, and decorative range hoods. Any combination of these accents can achieve that traditional look.
These five gorgeous kitchens are our favorites that have been designed in the traditional style. Which do you like best?
Dark Cabinets Reflect Traditional Style
This Oak Hill kitchen was designed with dark wood cabinets and a pop-out shelf above the range that presents rich traditional detailing. The tile backsplash also adds to the traditional look with dark accent tiles that draw your eye to the space.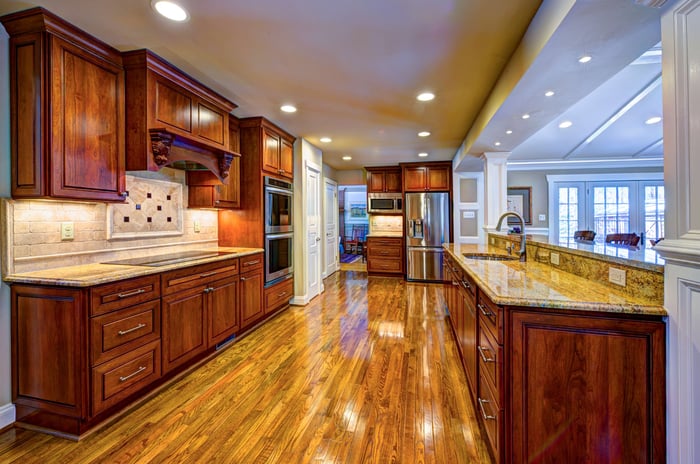 Islands Help Traditional Style Pop
This Herndon kitchen mixes light and dark wood in a complementary way. The pairing of wood cabinetry and a dark island with a wood floor makes this a very traditional kitchen. The cabinet detailing conveys the traditional interior design furniture of the period, while the kitchen's accent lighting also enhances the look.
The three drop-down lights over the island resemble bare bulbs, giving the space a very cozy and authentic feel. Instead of a full suite of stainless steel appliances, which some consider too modern, most of this kitchen's appliances are paneled to match the surrounding cabinets.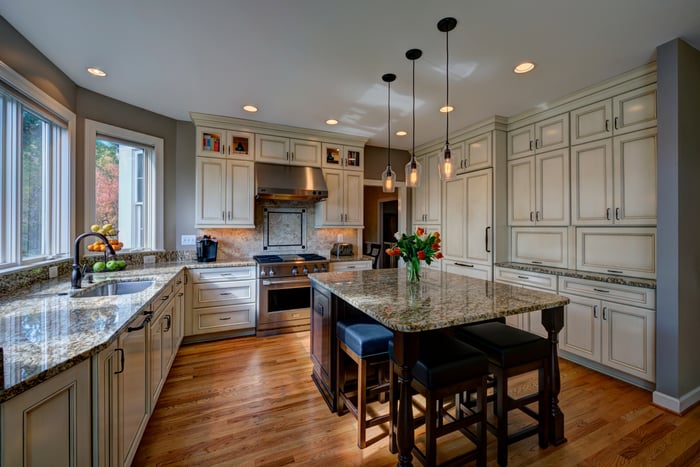 Traditional Hardware Adds Accent
This traditional kitchen in Oakton used a lighter wood hue for the cabinets, but chose deeper hardware and incorporated some beveled glass in display cabinets. The embellished tile backsplash offers another nod to the traditional style.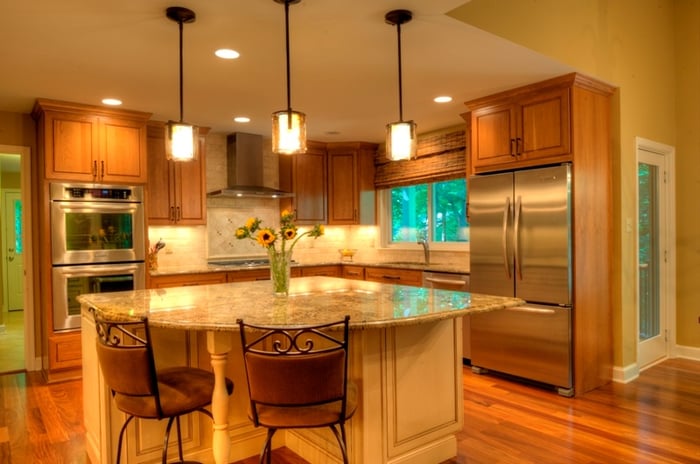 Furniture Serves As Ornate Design Inspiration
This kitchen from Drury Designs truly encapsulates the traditional style. From the deeply dark cabinets to gold embellished barstools, the room evokes an 18th Century feel while keeping the modern comfort of today's kitchens. The chandelier over the kitchen table resembles candles sitting atop the frame, giving that time-travel, historical feel.
Traditional Kitchens Don't Have To Be Dark
While traditional interior design predominantly calls for darker cabinetry, that doesn't always have to be the case. This kitchen by Onekindesign is very traditional, from the cabinets to the lighting.
However, it still maintains a clean and classic white look. The detailed columns on the kitchen island transform it into a decorative piece of furniture. At MOSS, one of our most frequent design requests are traditional kitchens that are white. This McLean kitchen remodel is also done in a classic white with beautiful column accents.
For more kitchen inspiration, check out Onekindesign's 65 Extraordinary Traditional Kitchen Designs, or look at Moss Building & Design's Kitchen Portfolio.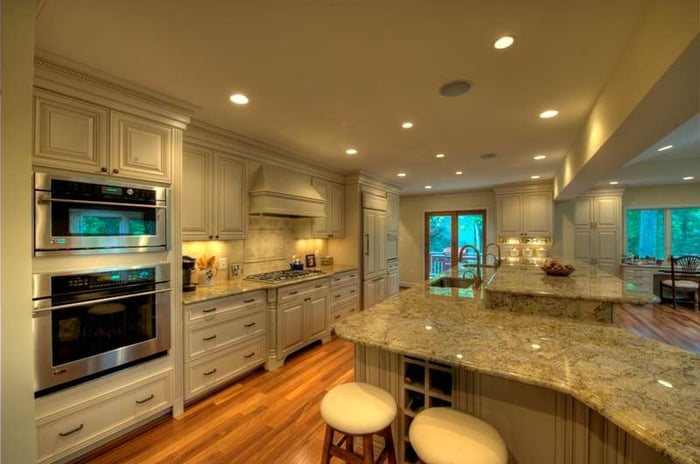 If you're looking for professional remodelers to make your home more traditional, call us at 703.961.7707 or email us at Hello@MossBuildingandDesign.com.