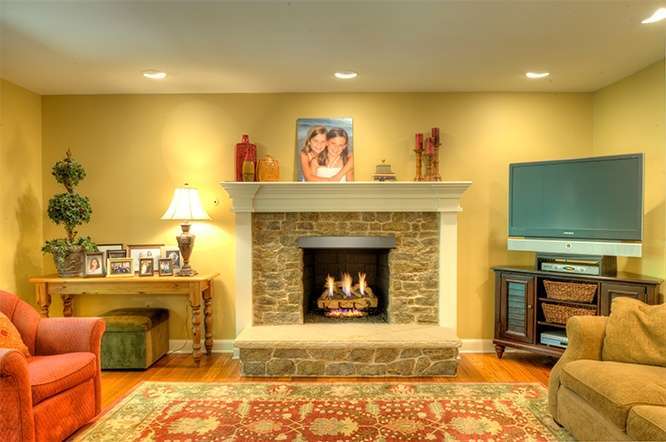 Create A Traditional Living Room Your Family Will Love

Aside from the kitchen, the living room is a common place to socialize with your family and binge watch Stranger Things together. A living room with a traditional design style is more formal with lots of decor and detailed woodwork.
A traditional living room is also very symmetric. Often times, you'll find pairs of sconces, candles, and windows on each side of a fireplace to add balance, according to The Spruce.
Symmetry in a traditional living room centers around a focal point, whether it's a fireplace or built-ins with a television. You'll also find many arches in a traditional living room, whether it's furniture curvature, an arch in the fireplace design, or slight bends in the cabinets.
To learn more about traditional interior design, check out our blog, What Is Traditional Interior Design?
Paint Colors
Choosing the right paint color is important to achieve a traditional design style. Warm, neutral colors and cream palettes are very common with jewel-toned pieces throughout the space. There's many articles on the psychology of color, and you want to pick a tone that you're going to enjoy while simultaneously completing the traditional feel of your space.
"Poised Taupe" by Sherwin Williams
Poised Taupe is Sherwin Williams' 2017 Color Of The Year. This color would look great in a traditional living room, as Sherwin Williams describes the color as "a timeless neutral with a beautiful balance of warm and cool…The earthen brown combines with conservative grey, and the result is a weathered, woodsy, and complex neutral that celebrates the imperfections and authenticity of a well-lived life."
"Shale 861" by Benjamin Moore
If "Poised Taupe" is a little too dark for your taste, consider Shale 861 by Benjamin Moore to create a traditional design in your living room. It's not surprising that Shale is a part of Benjamin Moore's Classic Collection, as the company describes the colors in this palette "as timeless as they are forward."
"Calm" by Benjamin Moore
Looking for a lighter color to brighten up your living room? Calm by Benjamin Moore is a classic color used to create a traditional look.
Window Treatments
Make your living room more traditional by pairing drapes with tall windows.
If you went with a darker paint color, consider selecting drapes in a lighter color, as you don't want the space to be too dark. For solid-colored drapes, consider cream colors, beiges, and taupe like this Antique Beige Grommet Blackout Faux Silk Taffeta Curtain from Houzz.
You can also consider drapes that have a paisley or floral design, because both create a traditional look. This Clara Window Panel Set from Houzz is a lighter option with a paisley print.
Fixtures, Furniture & Home Décor
To achieve a traditional design in your living room, add tufted pieces of furniture like this Barryknoll Settee from Wayfair. If you're looking for an even more traditional look, consider furniture in dark, rich brown tones, like this Ansel Park Brown five-piece set from Rooms To Go.
When it comes to flooring, if your living room floor isn't carpeted and you have hardwood floors, use a large area rug, like this Wayfair Charlton Home Coleraine Red Area Rug, to create a traditional interior design.
There are many different pieces you can use to decorate your living room. When designing this type of living room, consider adding some of these pieces:
Check out this traditional before-and-after home makeover from HGTV for more design inspiration.
Traditional Design With Northern VA's Best Remodelers
If you're looking to transform your home into a traditional space or if you have questions about an upcoming remodel, contact us. Our experts love hearing and talking about your project ideas. Call or email us at 703-961-7707 or Sales@MossBuildingandDesign.com, respectively.