The MOSS Difference
Why should you choose MOSS?
MOSS is a leading Northern Virginia remodeler that offers residential remodeling and home services, including additions, kitchens, bathrooms, basements, handyman, plumbing, electrical, roofing & siding, and more! MOSS has been serving the Northern Virginia community since 2001, and in that time MOSS has come to be a highly recognized contractor. From their appearance on the TODAY Show to local appearances on Let's Talk Live, as well as the countless customer service awards, MOSS continues to deliver a high quality remodeling experience that is sure to exceed your home improvement expectations.

The MOSS Difference highlights the elements that sets MOSS apart from other remodelers in the home improvement industry.
There are three key elements that set MOSS apart from other home improvement companies. These three elements include: Trust, Transparency, and Character.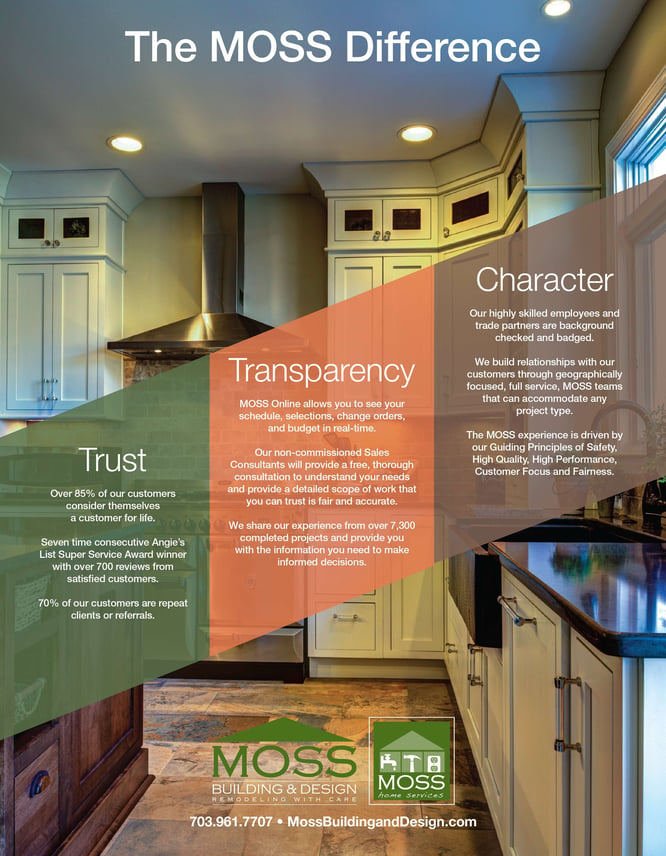 Trust
Trust is one of the most important things when considering a contractor to remodel your home. Your contractor will be in your home day in and day out and you want to feel confident they are people you can trust:
Over 85% of MOSS customers consider themselves a customer for life
MOSS is a seven time consecutive Angie's List Super Service Award winner with over 700 reviews from satisfied customers
70% of our customers are repeat clients or referrals
Transparency
Finding a remodeler you can trust goes hand in hand with transparency. MOSS can assure you that your remodeling process will be transparent, and you will be informed of every detail along the way:
MOSS Online allows you to see your schedule, selections, change orders, and budget in real-time
We provide a free, thorough consultation to understand your needs and provide a detailed scope of work that you can trust is fair and accurate
We share our experience from over 7,300 completed projects and provide you with the information you need to make informed decisions
Character
MOSS' Guiding Principles pave the way for a high quality remodeling process. We hold our integrity to the highest degree and deliver projects that align with our transparent, trustworthy approach:
Our highly skilled employees and trade partners are background checked and badged
We build relationships with our customers through geographically focused, full service, MOSS teams that can accommodate any project type
The MOSS experience is driven by our Guiding Principles of Safety, High Quality, High Performance, Customer Focus and Fairness.
These three elements make up The MOSS Difference, and really sets us apart from other remodelers. Our testimonials and positive reviews are a testament to our high quality process. We encourage you to schedule an Inside Guide call, where we'll answer questions, talk through ballparks, and more, or schedule a free consultation so you can find out firsthand what the MOSS Experience has to offer. Contact us at 703.961.7707 or email us at Sales@MossBuildingandDesign.com.