Mystery Tool Unveiled
The mystery tool in our How Cool Is That Tool Contest was...a Biscuit Jointer!
Congratulations to our winners and thanks to everyone who sent in their guesses. For fun, we're posting the final two video clues. Would these have given you that last bit of info you needed to be a big winner?!
Okay--I'll admit it--I had to ask what a Biscuit Jointer even does, so just in case you did too: a biscuit jointer is used to cut slots into the edges of the pieces of wood you need to join together. A football-shaped, lightweight, wood biscuit is inserted and glued between the slots to create a secure joint. It's also sometimes called a Plate Jointer or Joiner.
Here's what one looks like: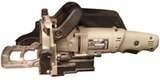 And here are those final two video clues: